Concert Review: Randy Rhoads Remembered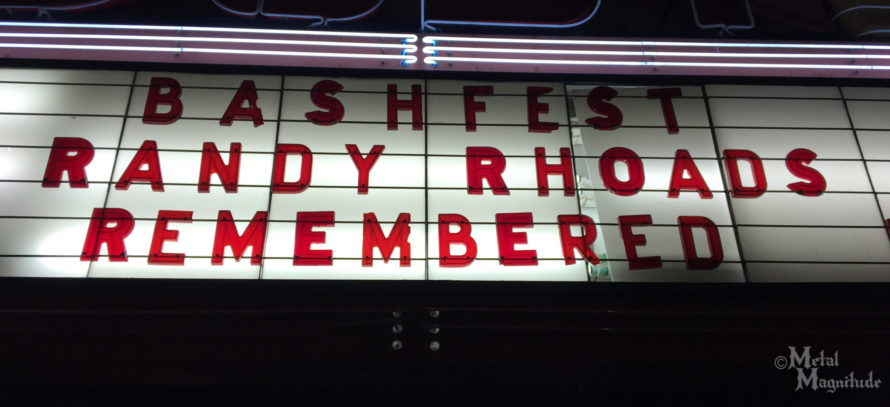 BashFest 2017, a yearly event coinciding with NAMM, a time when the cream of the crop comes to town in terms of musicians and you just never know who you might spot. A short distance away from all the Anaheim NAMM goings-on, Santa Ana's historic (and maybe a little haunted, depending on who you ask) Yost Theater was the setting for this year's festivities. Randy Rhoads Remembered was the focus on January 19th, bringing in Hard Rock and Metal musicians from around the country to pay tribute to a legendary guitarist whose music has had a significant impact on so many lives.
The night also featured a Red Carpet Reception, which I found to be essentially a whirlwind of interviews, grabbing musicians left and right (not literally, of course) to catch a few words on how they felt about the event, their goings-on at NAMM, and anything else on the latest in their lives that we could fit into a very brief talk before they had to head inside and get ready for the show.
After an intro, "S.A.T.O" was the first song to kick off the event, with Marzi Montazeri alongside the house band of Dewey Bragg on vocals, Phil Soussan on bass, and of course, one of BashFest's founders, Brian Tichy on drums. Tichy, along with BashFest co-creator Joe Sutton gave a few introductions before bringing out Rudy Sarzo, and the immensely talented bassist who played alongside Randy took his place in the house band. He and Phil Soussan were both filling the bassist role that night, switching out occasionally throughout the show. Rowan Robertson, former Dio and current Bang Tango guitarist, was the next guest to join the house band, for "Believer".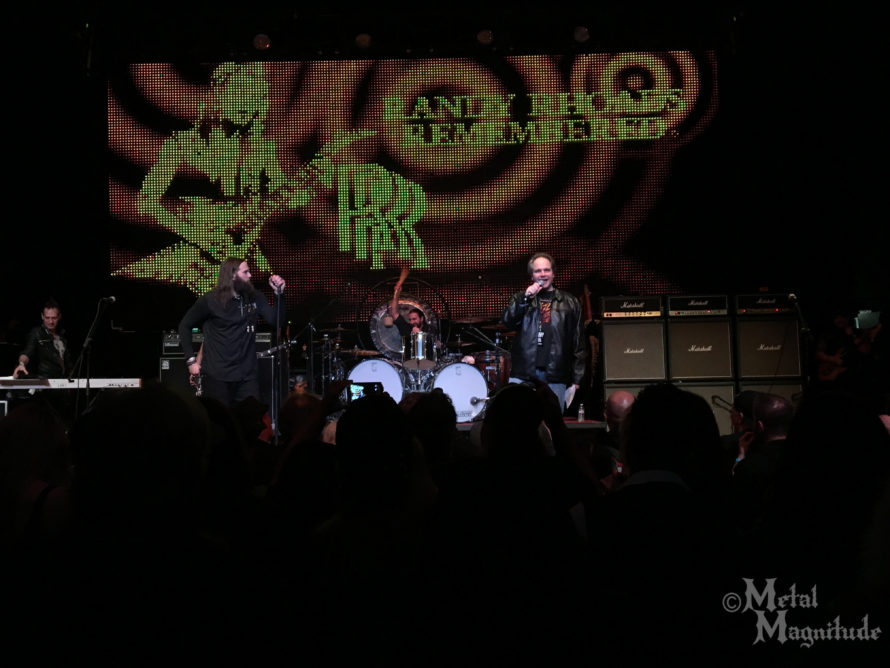 Eddie Trunk took over hosting the show next, the night after he hosted another event honoring Randy Rhoads, with an induction into the Hall of Heavy Metal History. He and Brian Tichy introduced each of the guests before they came onstage. Later on, Eddie decided to head out so that he could make his radio show in the morning, then Joe Sutton took over the hosting role for the rest of the night. I had the chance to speak with Eddie Trunk on the red carpet, and he had some great things to say about the Hall of Heavy Metal History as well as Randy Rhoads Remembered – you can read the interview right here.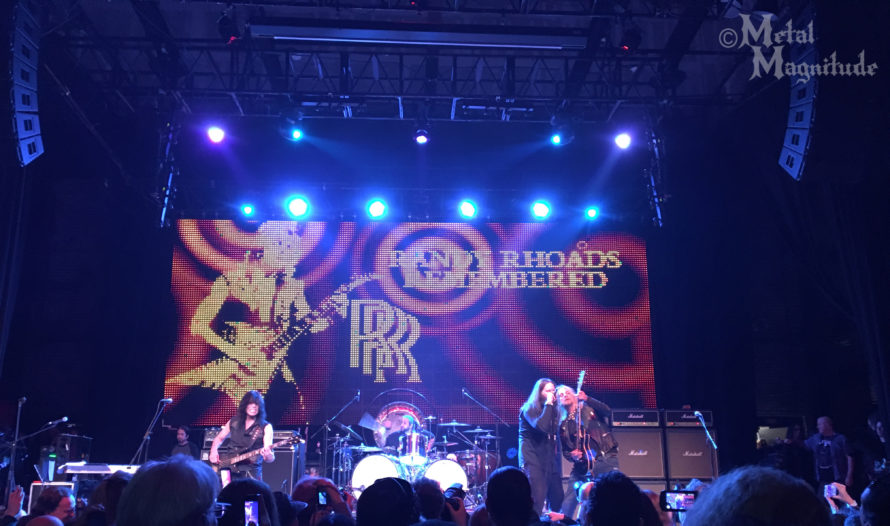 "I Don't Know" that anyone could have missed Richie Faulkner as the Judas Priest guitarist took to the stage for the Blizzard of Ozz opener, just before the Rhoads Family, Randy's brother and sister Kelle and Kathy, appeared to speak about their brother. I got to ask them both a few questions on the red carpet, and here are some highlights from Kelle:
"We're really happy about doing this again. We were trying to figure out in the car on the way over here if this was third or the fourth one, it probably is the fourth one, and they've all been in Orange County or thereabouts, and we also took this show on the road and toured with it twice, and we also played on a ship – like Monsters of Rock, but it was the Axes and Anchors tour. So we're real happy and real proud to be part of this." When asked about his performing in the concert, he said, "I sing, and then at another point in the show I play keyboards. I'm primarily a composer of classical music, but for years and years I also sang in rock bands. So once in a while, they pull me out of retirement, and they let me hobble on stage and do my thing, and then I get the cane".
All joking aside, Kelle did indeed come back out for a keyboard solo of his own, before bringing his own full band on later for a rendition of some Randy Rhoads-era Quiet Riot songs – "Killer Girls" and "Back to the Coast".  I also spoke with Kathy Rhoads, who had a gracious response about her feelings on the show: "It's always an honor to represent my brother, I never get tired of it. The people are so receptive and they just love him so much still, after all these years. It just truly touches my heart, and it's just amazing. It really is very heartfelt for me. Very bittersweet, but very touching." I mentioned that it certainly feels that way for the fans as well, to which she added, "The fans are the best. The Randy fans are just so wonderful, there's just no words sometimes".
The Madmen house band gained an additional member when it was time to break out the keyboards – Steve Ferlazzo (who's played with both Nuno Bettencourt and Gary Cherone and also founded the Lucky Strike Soundcheck) came out for the intro to "Mr. Crowley", for which Mike Orlando also joined in. The humorous "No Bone Movies" brought out Chas West on vocals and Michael Angelo Batio on guitar, followed by Angra's Marcelo Barbosa's time playing "Tonight", Kelle Rhoads' keyboard solo, and August Zadra (Dennis DeYoung Band) doing "Revelation Mother Earth". Phil Soussan also took a moment at the mic to offer some kind words and praise to Rudy Sarzo.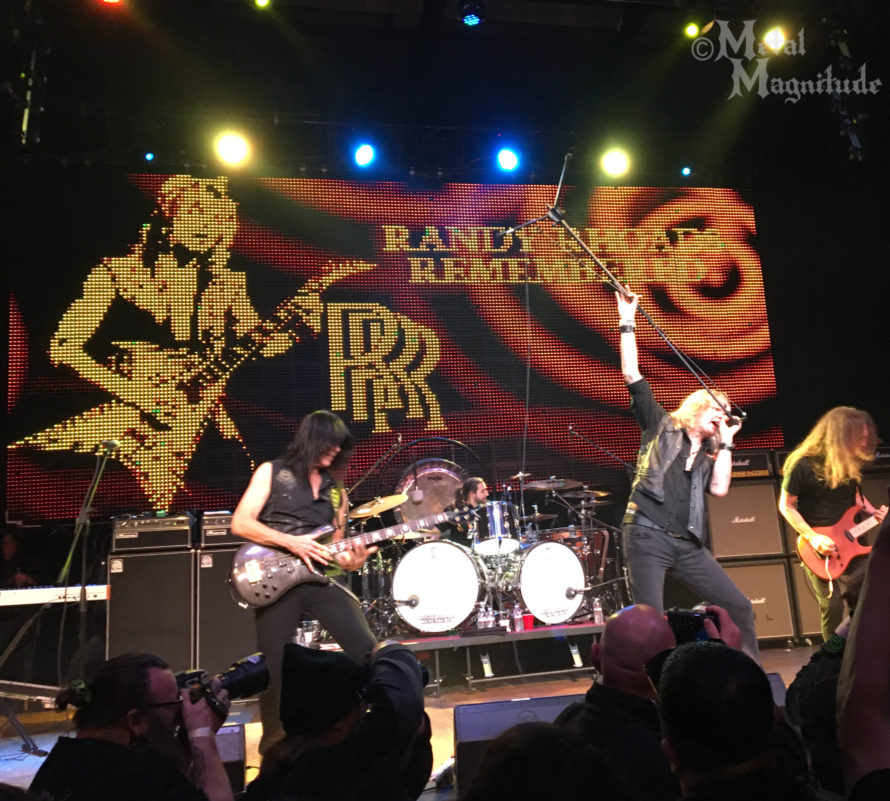 "
It was only a matter of time before the show went all aboard the "Crazy Train". There are some people out there who might say the track is overplayed or overdone – but from what I heard, not a single one of them were present in the Yost that night. The moment the first notes of that infamous riff were picked by Skid Row's Scotti Hill, the crowd's cheers were enough of an "eruption" to rival that of Eddie Van Halen's. Scotti expressed a lot of excitement about playing this song. Chas West returned to take on the vocals for this track, one that he mentioned he'd be taking on in my interview with him before the show.
It's nearly impossible to be in the same room as Ira Black and not hear someone toss the phrase "best hair in metal" around a few times. A word of advice might be "Don't let the hair overshadow the playing", but really, that'd be very hard to do once he starts to shred. Ira played "Steal Away (The Night)" and stole the show in the process. Check out a quick pre-show interview here.
By this point, it seemed like Chas West was "here to stay"  – he came back once again to sing "You Can't Kill Rock and Roll", this time with Roy Z on guitar. Roy, who's played with Bruce Dickinson and Halford among others, will be featured on Chas' new upcoming solo record that's coming out on Frontiers later this year.
For anyone in the audience who only knew Brian Tichy as a drummer, a big surprise was in store when Deen Castronovo took his place behind the skins and let the multi-instrumentalist BashFest Founder come forth to don a Randy Rhoads-inspired polka dotted flying V and shred away. Tichy was asked on stage which he preferred, drums or guitar, and he confidently proclaimed that he is a drummer; but as soon as the six strings in his hands started to move and form the sounds of "Suicide Solution", not a bit of doubt could have remained that he is a guitarist through-and-through as well. We spoke about his admiration of Randy Rhoads in an interview before the show.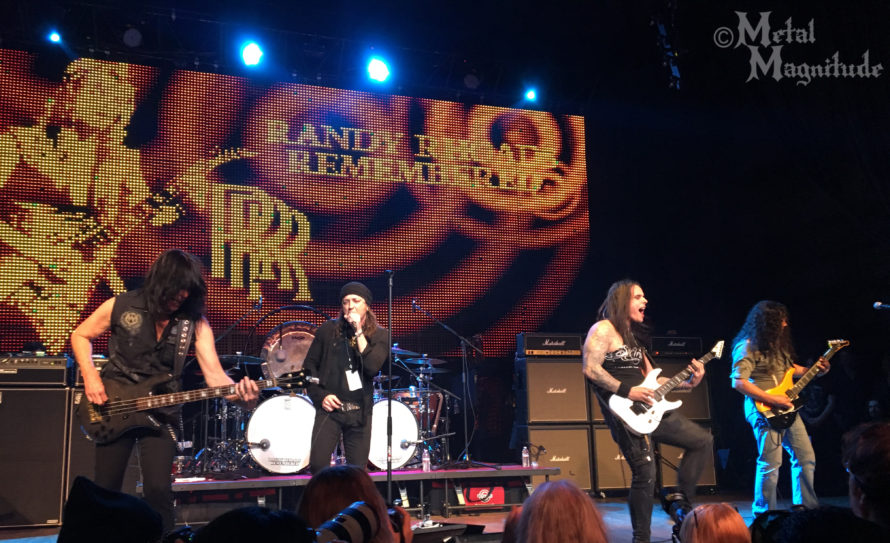 Michael Sweet was next on the list for featured guests, singing "Over The Mountain" alongside fellow Stryper member Oz Fox on guitars together with Bill Hudson – best known for his time with the Trans-Siberian Orchestra. During the red carpet reception, I caught Stryper (including drummer Robert Sweet) for a quick chat right before they went inside, so I asked for some thoughts on Randy Rhoads Remembered. Michael said, "We're big fans of Randy, very influenced by Randy. We grew up listening to him and he blew us away the first time we heard him. It's an honor to be here playing a song honoring his life and his talent." Oz added, "I loved Randy since the first time I heard him on the radio and it just kind of went off from there, you know? It's been many years of just working hard at trying to figure out what he does. The essence of Randy." Robert also chimed in, stating, "It seems like yesterday and it's been over three decades but he was ahead of his time and an innovator, a really incredible guy". The band also mentioned they'll be releasing a new album later this year.
From Seven Witches to Sabbath, Jack Frost made an appearance to jam on "Iron Man" and "Children of the Grave", right after Machine Head's Phil Demmel played some "Paranoid".  Nick Bowcott from Grim Reaper took us back from Sabbath to Ozzy's solo work, wielding a flying V for "Flying High Again".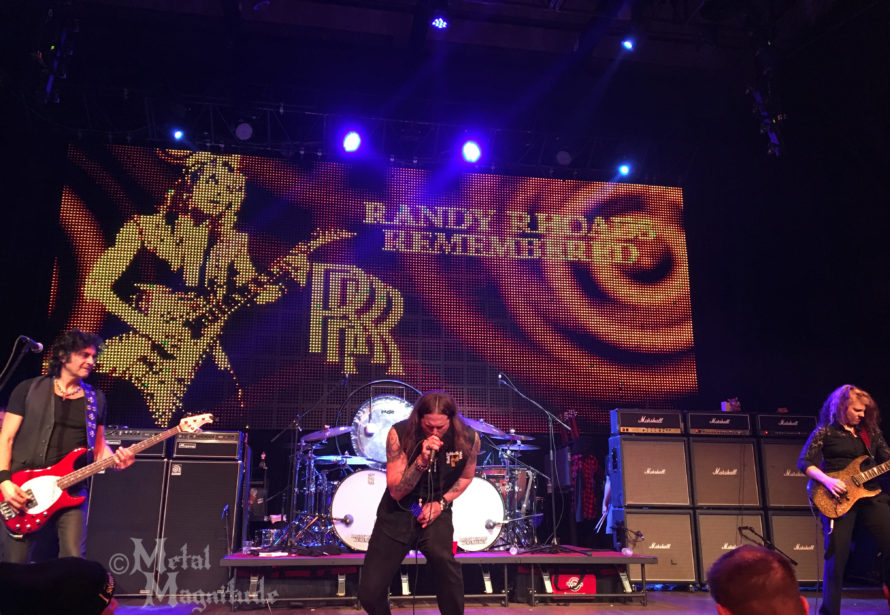 Janet Robin is a former student of Randy Rhoads and a virtuoso in her own right. She's played with artists like Lindsey Buckingham and Air Supply, and has a solid solo music career that even includes film and television scoring. A touch of timpani played by Deen and Dewey was brought in during Janet's time in the spotlight playing "Little Dolls".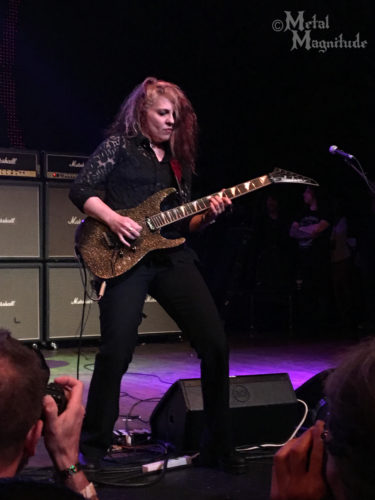 Doug Aldrich has quite a fanbase, as to be expected from such a talented guitarist who's spent time in both Dio and Whitesnake, not to mention his recent tenure in the Dead Daisies. I caught Doug on the red carpet, and we briefly discussed his NAMM activities (he did some signings with Suhr Guitars and TonePros), the latest with the Dead Daisies (there's a new live record called Live and Louder on the way, and a new studio record in the works), and of course, the show, to which he said, "I'm feeling good. It's an honor to be here, Brian Tichy puts this event on and he does a great job with it". "Diary of a Madman" was the track reserved for Doug's time on stage approaching the end of the show. This followed a rendition of "Goodbye to Romance" that brought Tichy, Robertson, and Orlando out on acoustic guitars with Neil Turbin and Dewey Bragg taking on the vocals together, while Deen and Rudy handled the bongos and bass. Last but not least was an all-star finale as the song "Dee" not only brought most of the guitarists back on stage to play together, but also brought the concert to a close.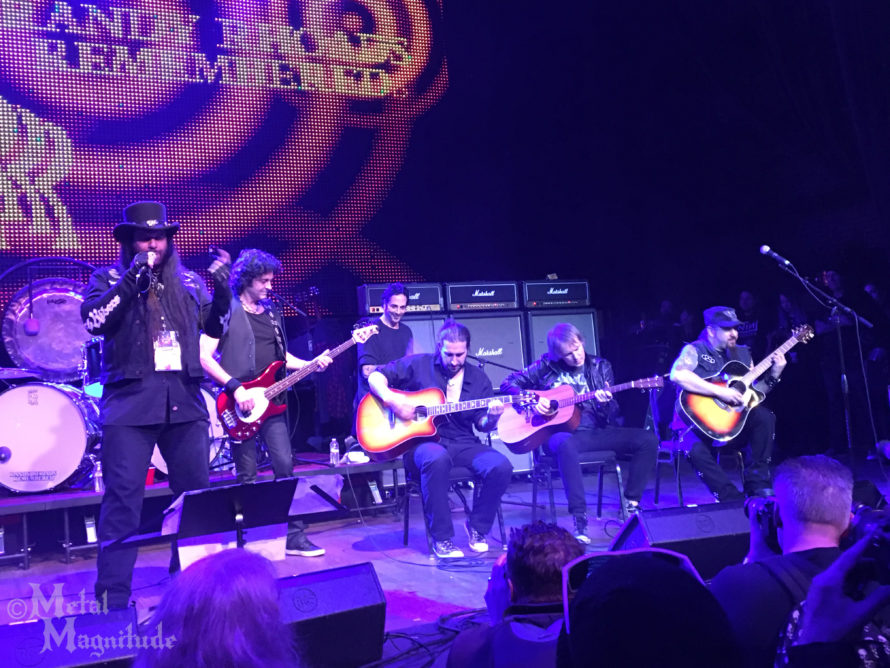 After taking in the whole experience, all I can say is what a night, what a show, and what an icon worthy of being remembered on such a grand scale. It was touching to see the amount of people who gathered in celebration of Randy Rhoads, and to hear the stories that so many musicians had to share of how much he's inspired them throughout their musical lives.
---
[All concert photos ©Metal Magnitude 2017. Please do not copy or use without permission.]
Excerpts of the more brief pre-show red carpet interviews have been included in this review, but there were some guests that I got to spend quite a few minutes chatting with. The lengthier interviews have separate pages, and all can be found at the following links, as well as the "Randy Rhoads Remembered" tag.