Randy Rhoads Remembered Interviews: Eddie Trunk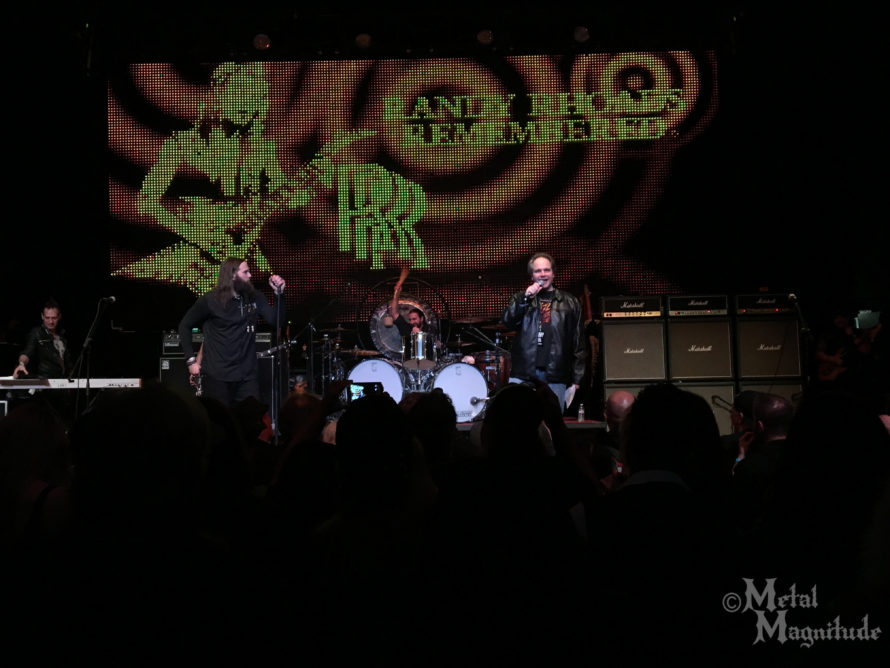 Eddie Trunk hosted quite a few concerts in a row during NAMM week, including the Hall of Heavy Metal History and Randy Rhoads Remembered. Despite the stormy night outside on the red carpet, we stepped aside out of the rain for a quick chat about Eddie's latest radio shows, the Hall, and of course – Randy Rhoads Remembered.
---
You hosted the Hall of Heavy Metal History last night, great event and the first of its kind. Just wanted to get some of your thoughts on what it was like to host and pay tribute to all those great artists.
It was cool, it was something that was a first time event – I didn't put it together, it was not my event, I simply hosted it – but I was honored to do it. I think that it's a good start for something, I mean like anything, the first time somebody does something you learn a lot and you can make some changes and what have you, and I'm going to continue to work with the guy who put it all together to hopefully continue it and make the next one even bigger and better. But I think that for a first time event, it went very well.
I agree, I was there myself and I also think it went well. Speaking of next year, who else might you like to see inducted next year, anyone off the top of your head?
Oh my gosh, so many. I think what was cool about what they did this year was that they put some of the lesser known people in, you know? They put some of the people that don't really get a lot of accolades and aren't always right in the front spotlight, and I think that was really cool. So what I think that they should do, and I'm going to suggest this for next year, is there should be categories. In other words, they should have like…"Under the Radar Legend" or, you know…make categories for everybody to put them in these different slots, and then maybe also let the fans decide and vote in some way about who they would like to see go in. So I have a lot of ideas. The guy who ran that whole thing and put it together, he actually lives right by me in New Jersey, so we made plans to get together in the next few weeks and have a meeting to talk about it, and just try to come up with ideas together that could make it better.
Definitely sounds like the start of something really great. I also wanted to ask you, you have your recent show on Volume, you're still doing Trunk Nation, plus several radio shows, it just seems like you've got a lot going on right now.
Yeah, you know, I'm very lucky that after all these decades, I can keep doing what I love. I'm currently doing eight broadcasts a week, I have six live shows on SiriusXM, as you mentioned – five doing rock talk on Volume, one show with music on Mondays, and then I do a syndicated FM show that's on KCAL here and about 30 other stations, and I do a podcast every week. Eight shows a week is pretty cool, I still have some new TV stuff in the works, hopefully that'll come through, and hopefully someone will pick up That Metal Show and we'll do that again. But I'm open to anything and everything, I'm just grateful that for coming up on 34 years, I've been able to make this whole business and this music I love my passion, to be able to continue to work in it and help spread the word about it.
Excellent. Lastly, your thoughts on tonight's event?
Should be great. I've known Brian, who's behind all these things, for a very long time. He's also from New Jersey like I am, actually from the same town I live in, and I think it's great that he does this stuff. I didn't even know I was going to be out here until a few weeks ago and then when he found out, he's like, "Hey, are you going to be out there?" This was the one night I had off, and he asked me if I'd come and help him host and I said of course. I think it's going to be fun, so many of these players I know, so it should be a great time.
All right, well, thanks for taking the time to talk with me.
Thank you, appreciate it.
---
For the rest of my red carpet interviews from Randy Rhoads Remembered, check out my review of the show as well as the interviews page.