Randy Rhoads Remembered Interviews: Brian Tichy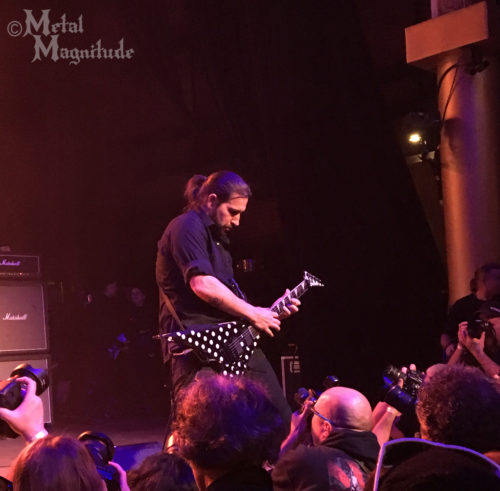 The red carpet reception before the Randy Rhoads Remembered concert was the perfect opportunity to talk with the founder of the event himself, Brian Tichy. I was able to catch him for a few words on the event and his thoughts on Randy just before the show started.
---
This is the fourth annual BashFest, a really great event with lots going on, and of course it's your own creation in Tichy/Sutton Productions. So how does it feel seeing it all come together for the fourth time in a row?
It really is great, this makes it all worth it, because the months prior I've been on tour preparing these shows, so to try to do it on tour is a little bit of extra work. But you know, I'm sitting here right now going, "Man, we're about to do a three-and-a-half-hour rock show all in honor of the mighty Randy Rhoads". It's just nice to do, and there's nothing unique about what I'm doing, everyone on stage feels the same way about Randy. Rudy Sarzo, who is my bud but he's also got such an amazing history within this show and with Randy, and for him to be here all night is great, and the Rhoads family…it's just a nice way of saying thanks to Randy Rhoads for what he did for us all. I mean, I have intense memories of the first time I heard him – I was like, "I have to learn how to do this", I'm a drummer, but I want to play guitar like that. Like everybody in here, that's why we do it, you know what I mean? And it's just a fun night out. You've got to put a bunch of time into prepping it, making it happen, but if you dot your i's and cross your t's, you can usually come across all right.
Well, what you described about the first time hearing Randy, I feel like a lot of people – fans and musicians alike – get that with Randy's music, just that feeling of…amazement, really.
Well, I've done this enough times over the past few years to not have to worry about learning the songs, but even for the first time we did it…I mean, it's rock drums, so it wasn't I had to learn some crazy out-of-the-box thing I've never done before, but…the songs are in my head from the amount of times I listened to them as a kid. Then when you start getting into rehearsals, I love the rehearsals almost the most because you're really digging into the music and wanting to make it right with the guests that come in, you know. It's just fun because it brings me back to what it made me feel like the first time as a kid. It's really that, you know, seventh grade, eighth grade, being so excited the first time you hear stuff that blows your mind and you realize, this is something I want to aspire to be or try to get there somehow. I didn't know how, I was a kid, but just being an adult and a professional musician, you just go "Hey, I got some time, it's a fun idea, let's do it".
And it's fantastic.
But seriously, I appreciate anybody's interest. It would really suck if we put the show on and nobody cared, you know? It's nice that usually everybody's here going "Yeah, I know all about Randy and I know what that music meant". It's not that far away from anything in the world of rock, like Blizzard of Oz and Diary of a Madman, those are two of the most iconic Hard Rock/Metal records since they came out. I mean, you go through every band and that's at the top, you ask anybody, give me your Top 10 guitar records or you know, Hard Rock/Metal guitar records, it's Randy Rhoads. He's right there all the time. That's the kind of impression he had. 25 years old, I'm way older than that now and I'm just like, "That guy did so much in such a short time". He just devoted everything he had to his art, his belief of what he wanted to be. Even just talking about it makes you inspired.
So true, such an incredible musician.
It doesn't matter what you do, you just look at a guy like that and it's like, he had a natural gift of course, but…a lot of guys have gifts, but are you going to know how to use it? Are you going to back it up and support it, you know what I mean? It's there but you're never going to really do the right thing with it. He did the right thing with it, every step of the way as far as I'm concerned.
Absolutely. Also, this event is one part of the whole BashFest, you had the Rush Tribute last night, there's Bonzo Bash tomorrow, and I believe for the House Band, you're the only one who's playing all three nights.
Well, I should be because I came up with the ideas (laughs).
Of course!
It's myself and Joe Sutton, my partner, we did the first Bonzo Bash thing together and we just kind of went "okay, let's do it again – oh wait, let's do Randy Rhoads Remembered", you know? It wasn't like a big meeting of how to go about the future, it was more like "Well, do you want to do it? I think we can do this". So being a drummer who loves guitar, I play in the shows as much as I can. So thank you! I've got to get ready for the show, we're playing soon, but thank you for coming. Have fun!
No worries at all, thanks for your time and have a great show!
---
For the rest of my red carpet interviews from Randy Rhoads Remembered, check out my review of the show as well as the interview page.