Hall of Heavy Metal History Honors Icons at Inaugural Induction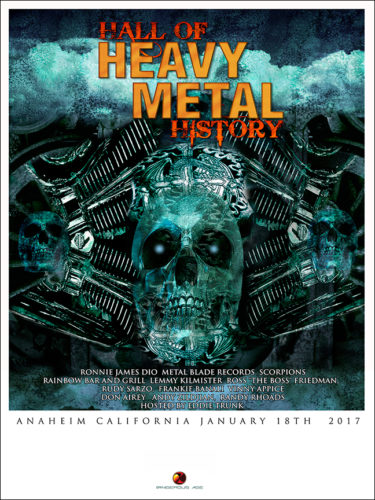 How often can a fan of Heavy Metal music say they've seen their favorite band or artist inducted into a Hall of Fame or receiving some recognition on an awards show? Hardly ever, and perhaps not even at all. Fans and enthusiasts of the genre have noticed it…maybe even a few outside the genre have noticed it. Either way, there truly seems to be a lack of attention and appreciation for Metal and Hard Rock, especially when it comes to music awards ceremonies – but the newly established Hall of Heavy Metal History has set out to change that fact. Making a difference in more ways than one, the Hall offers a special place of recognition for figures who have made their mark on the world through Rock and Metal. The first event of its kind, the Hall of Heavy Metal History Induction Ceremony was a night to remember as fans and friends alike gathered on January 18th, 2017 in Anaheim, CA with Heavy Metal in their hearts to honor icons that span many contributors to the genre. Bands, musicians, labels and landmarks alike were among the first inductees to the Hall.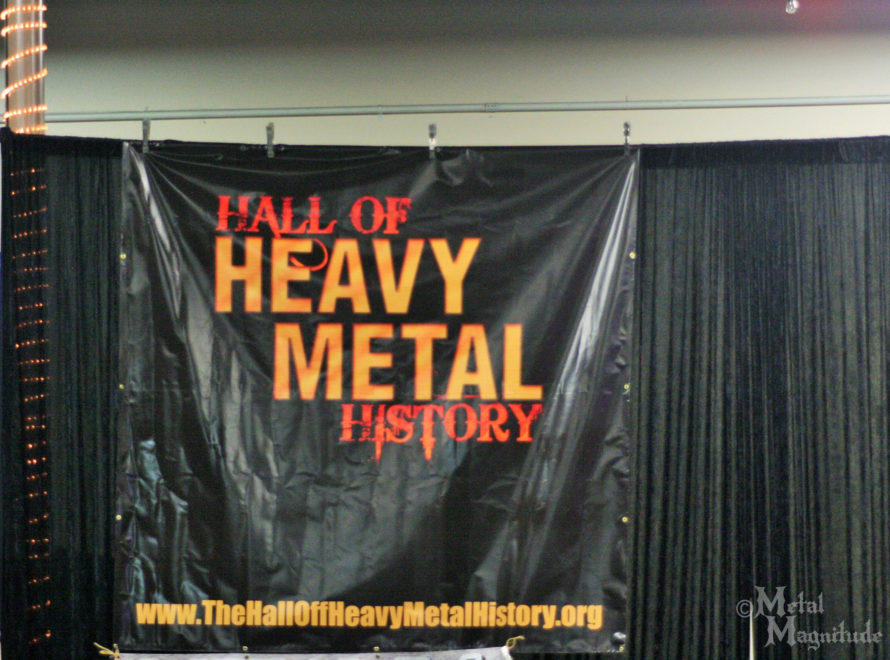 Aside from the motivation to provide Metal legends with well-deserved recognition, another force behind the Hall comes from the organization D.A.D. (Drums and Disabilities), a non-profit organization dedicated to help those with disabilities around the world through music therapy – specifically drum therapy. The D.A.D. Program was developed by The Hall of Heavy Metal History Founder and CEO Pat Gesualdo, who had a remarkable story to tell of his own life, and how he overcame many difficulties as a child through the act of learning to play the drums, motivating him to create the program. Even admission to the event served a good cause, as the proceeds went to the Ronnie James Dio "Stand Up and Shout" Cancer Fund.
Formal awards ceremony meets Heavy Metal concert, the event had just the right style, even down to the actual award itself – a small gold bass drum topped with a Flying V, presented proudly by special guest host Eddie Trunk after each acceptance speech. For the most part, the inductees themselves were present to accept their awards, but in the few cases when beloved and departed legends were to be inducted, special guests stepped up to represent them and talk of their lives. The first to do so was Wendy Dio, who gracefully accepted the award given to Ronnie James Dio.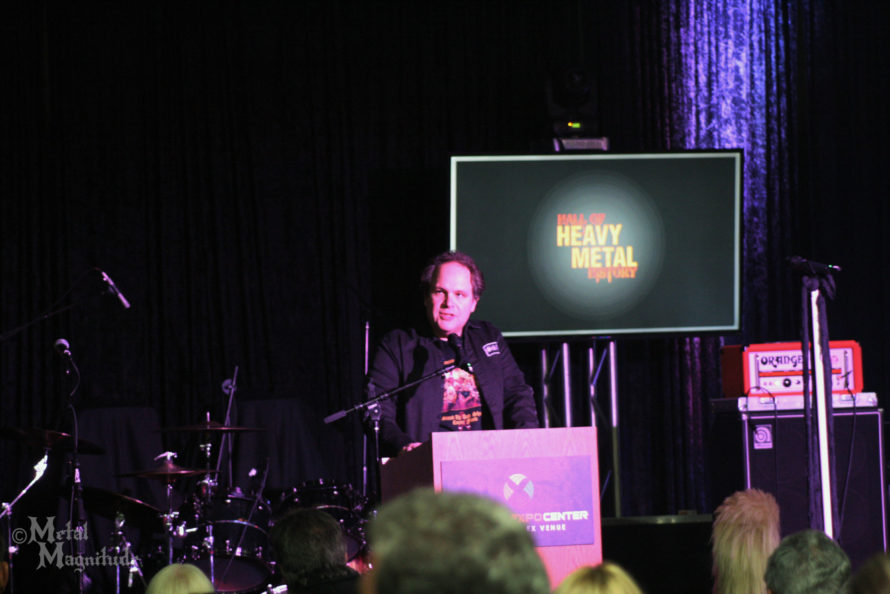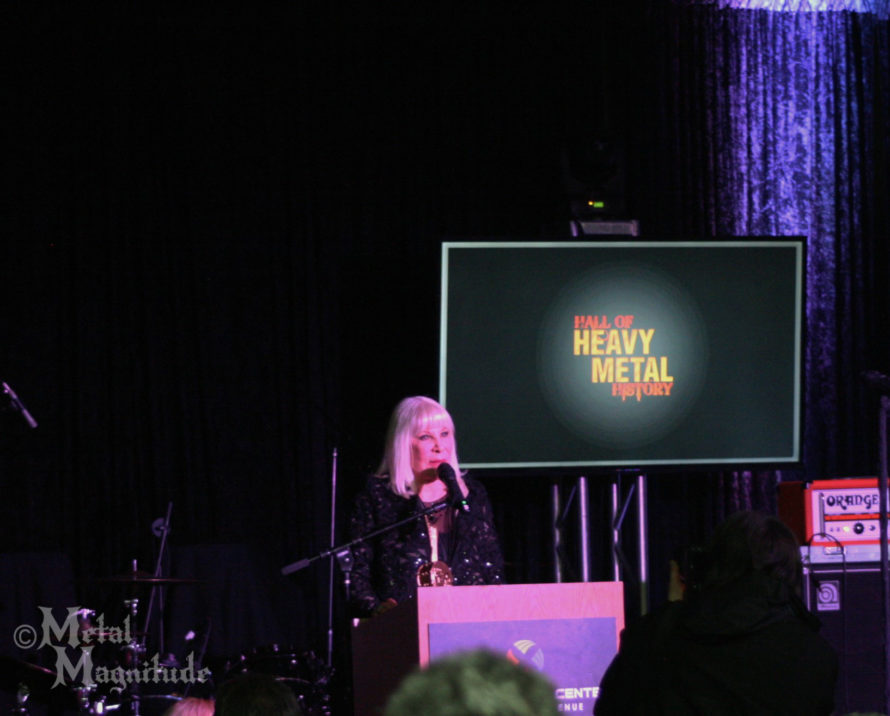 Among the music industry professionals to be inducted into the Hall were Andy Zildjian, CEO of Sabian cymbals, and Brian Slagel, Founder and CEO of the record label Metal Blade Records. Andy Zildjian delivered a spirited speech when he accepted his award. Eddie Trunk sang praises of Metal Blade Records and their integrity in sticking to a single genre of music for many years, then brought out special guest Kerry King from Slayer to introduce Brian Slagel.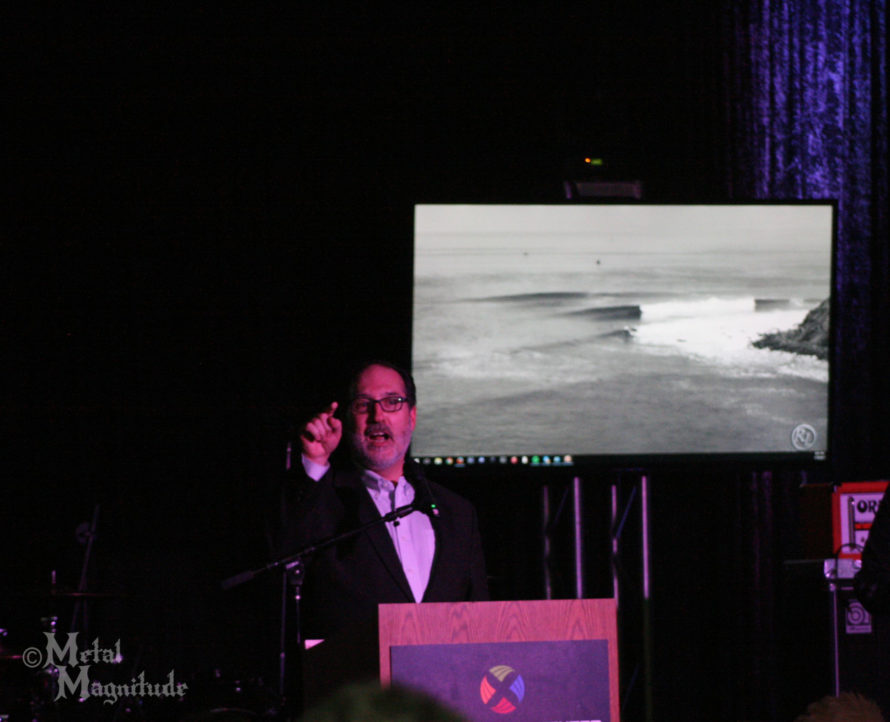 Accepting for the Rainbow Bar & Grill was Motörhead and Scorpions Manager Todd Singerman, founder of Singerman Entertainment. There are plenty of stories about the countless hours Lemmy spent at the Rainbow, but he wasn't the only one. A gathering spot of Rock 'n Roll for many years, the Rainbow is a true landmark filled with much "Heavy Metal History", fitting for an induction into the Hall.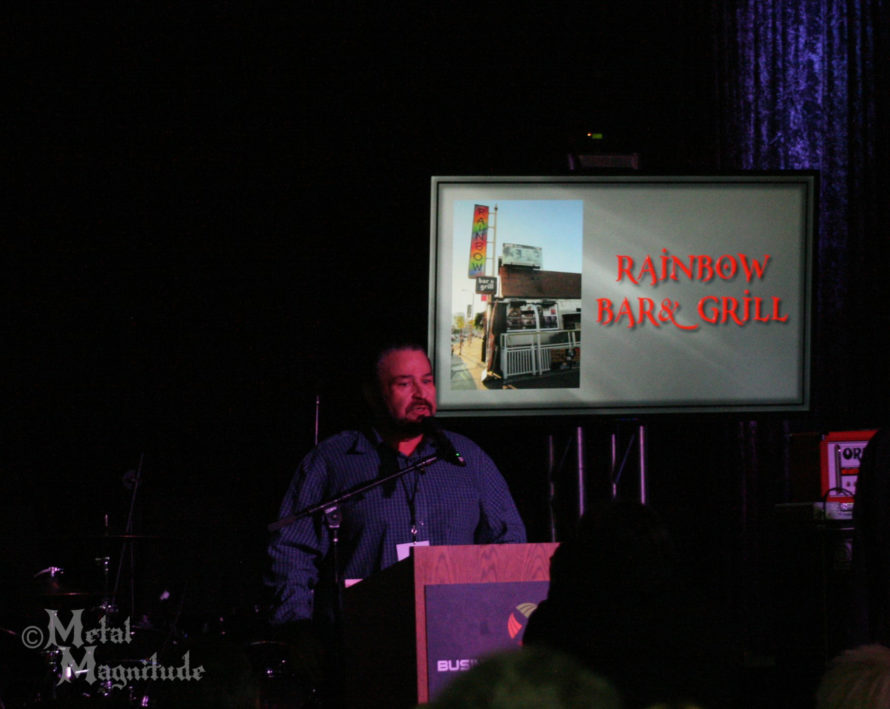 Who could be more well-suited to follow the Rainbow than Lemmy Kilmister himself? Long-time Motörhead drummer Mikkey Dee was the one to accept the award, and both he and Eddie Trunk had a good amount of entertaining stories to tell for this induction. Lemmy may have been known to say "We are Motörhead and we play rock 'n roll", but a place in Heavy Metal History is undoubtedly held by this well-missed icon. This wasn't the last we saw of Mikkey Dee for the night – he also accepted awards on behalf of both Lemmy and Scorpions, amidst Eddie Trunk's jokes about the newest member of the Scorpions being the one to accept the award.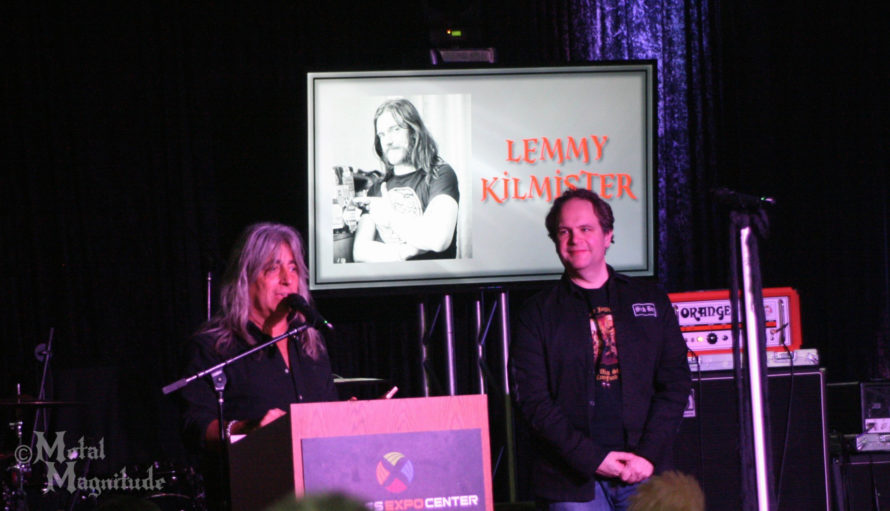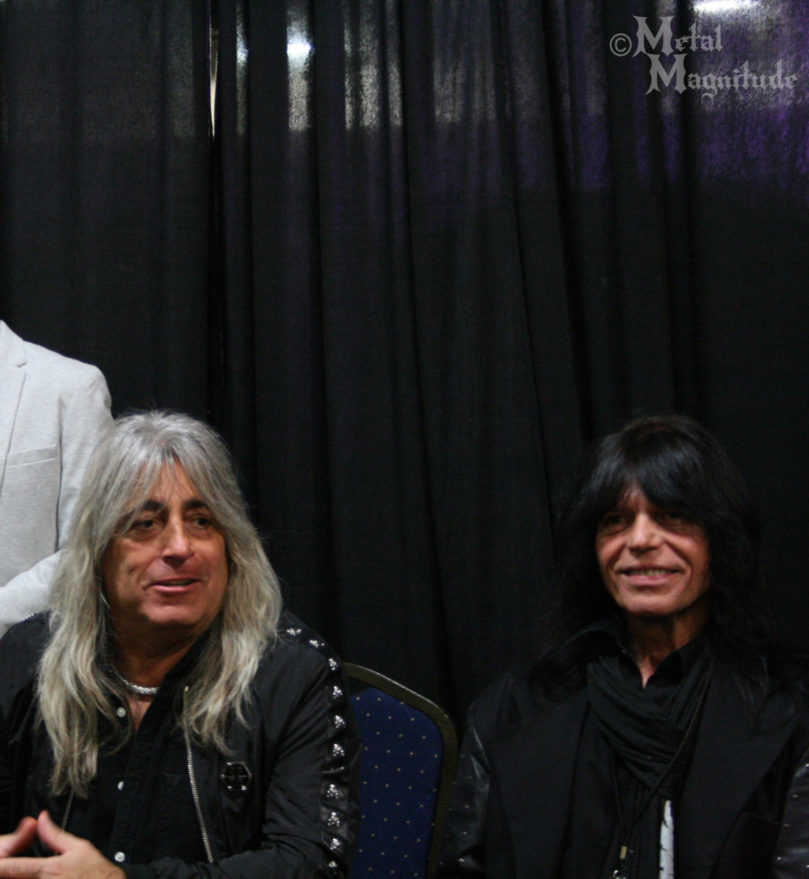 Mikkey wasn't the only one who went up to accept more than one award – that task was shared by Rudy Sarzo and Frankie Banali. Rudy himself had an induction of his own, of course, but he also joined Frankie Banali on stage for an emotional speech upon the induction of Quiet Riot, telling stories of his time in the band and how rejoining served as encouragement for him to continue on in music after the passing of Randy Rhoads. Frankie Banali also received an award himself in addition to the one he accepted together with Rudy for Quiet Riot.
Vinny Appice's induction was an entertaining one, sparked by debates over the true pronunciation of the name "Appice". Brothers Vinny and Carmine stuck to their guns on their own choice pronunciations (APP-ih-see for Vinny and uh-PIECE for Carmine), but a third brother's presence at the Hall turned the tables on them both; Frank Appice's pronunciation of choice sounds a little something like "ah-PEACH-eh". Fans will make their own decisions on the matter, but one thing for certain is that these siblings aren't changing their minds anytime soon.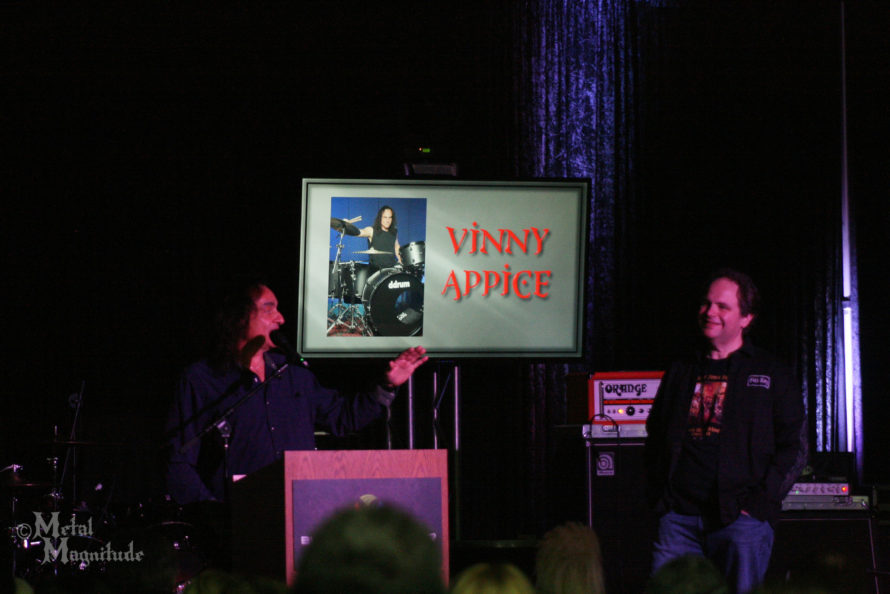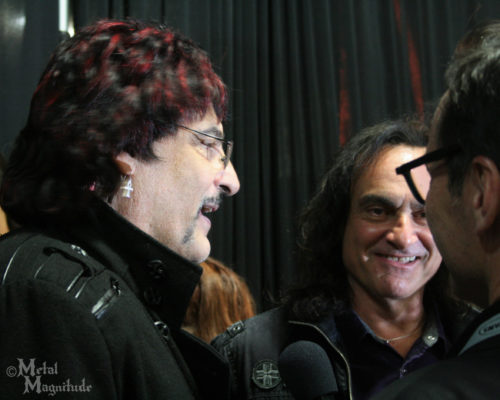 The final two inductees tied in very nicely with a certain common factor by the name of "Mr. Crowley". Those memorable keyboards that open the well-known Ozzy Osbourne song were concocted by none other than Don Airey, whose work can be heard on a remarkable amount of rock and metal records, not to mention his impressive history of touring.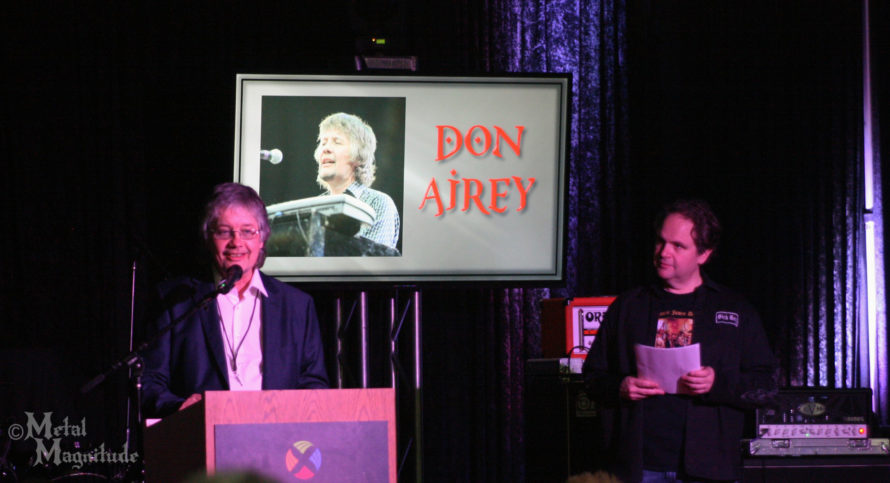 Last to be inducted but most certainly not least was a musician whose status as a legend cannot be questioned, Randy Rhoads. Eddie Trunk's comment on how often "Crazy Train" is played at sporting events simply proved a point that Randy Rhoads' extraordinary talents are heard and enjoyed by listeners everywhere practically all the time. So many people appreciate this beloved icon of rock and metal music, and his posthumous induction was a tasteful and fitting close to the Hall of Heavy Metal History Induction ceremony. The award was accepted by Kelle and Kathy Rhoads, Randy's brother and sister, who spoke about how they still miss their brother, but appreciate how much love and admiration his fans send his way every day.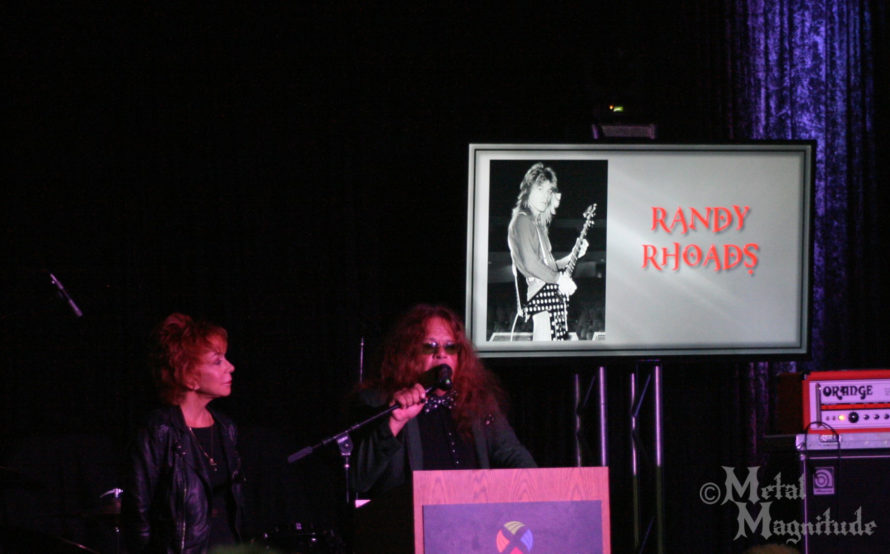 Speeches were not the only sounds to fill the ears of those at the Anaheim Expo Center that night – there were also several bands playing, staying true to form for a Metal event. Before the induction ceremony began, the Ethan Brosh Band opened up the festivities with several original songs, including one which was written in collaboration with George Lynch. If you've seen Yngwie Malmsteen or Jake E. Lee's Red Dragon Cartel out on tour sometime in the past few years, you've most likely caught Ethan Brosh as an opener. The guitarist also made a recent appearance on Stryper frontman Michael Sweet's solo album, One Sided War.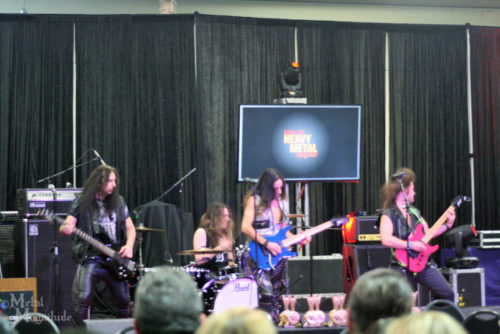 Diamond Lane played immediately after the induction ceremony, bringing a taste of their modern L.A. Metal to the stage and keeping up the high spirits of the night. I heard many a good comment from the audience on their performance, and the up-and-comers do seem like a band to keep your eye on.
Between his posthumous induction and proceeds going toward charity in his name, the spirit of Ronnie James Dio was alive and well in the Hall of Heavy Metal History, and the Dio Disciples upheld the remembrance through his music, with an excellent performance by this band described as "Ronnie James Dio's Band Mates and Friends". Naturally, Dio Disciples played many well-known Dio classics, but tracks like "Man on the Silver Mountain" and "Heaven and Hell" also slipped into the set, adding a touch of the late great Ronnie James Dio's time and work in Rainbow and Black Sabbath.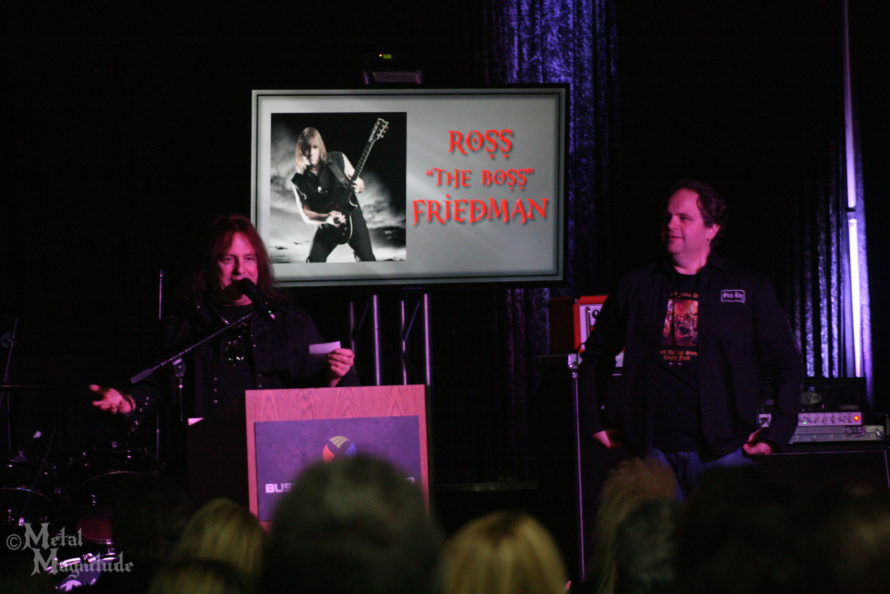 Ross The Boss followed Dio Disciples, a fitting order considering that during his acceptance speech, Ross told the story of how Ronnie James Dio was the one who made the connection between him and Joey DeMaio circa 1980 – the rest is history, as Manowar was formed shortly after. The recently formed Ross The Boss Band gave a strong showcase of the "battle hymns" of Manowar while also making for the only performance that night which featured one of the Hall's inductees.
On a personal note, I have to say that it was both an honor and a pleasure to be present at the very first Hall of Heavy Metal History. From the moment I first heard of it, I thought the concept was a brilliant one, and it was exciting to witness it all come true to life. I look forward to seeing the event continue for many years, projecting metal history into the future.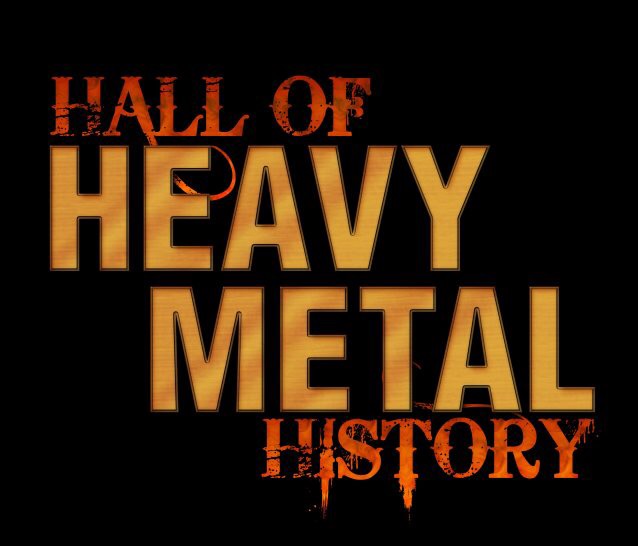 Keep an eye on the future of the Hall by visiting the Official Website