Interview: Carmine Appice




On September 23rd, Appice, the project consisting of iconic drummers and brothers Carmine and Vinny Appice releasing their new collaborative album Sinister later this month, hit Tupelo Music Hall in Derry, New Hampshire. Just before the start of the show, the legendary Carmine Appice was kind enough to sit down with me for a great interview, where he gave an in-depth explanation of the record's connection to late great Ronnie James Dio, plus an inside look into the Vegas video shoot for the track "Monsters and Heroes". We also chatted about the Hall of Heavy Metal History, and the history of "Drum Wars".
---
Thank you for sitting down with me for a quick interview. So we're here tonight at the Tupelo Music Hall for what is being called "Drum Wars", and the name of the band has been a debate, of course, whether it's "uh-PIECE" or "APP-ih-see", depending on who you talk to…
I went on The Beatles Channel the other day at Sirius Radio and we said, "Let's just call it 'A-P-P-I-C-E", you know? Then you can say it however you want. And we wanted to call it "Appice Brothers", but the label wanted to do just Appice, I said, "All right, that's…okay", but live we're trying to do it as "Appice Drum Wars". We did have a following with this "Drum Wars", we've been doing it for a few years now. It's a lot of fun. Today, we're putting in like four songs from the new album, and we brought in some production, some lights, just some different stuff. We thought it's time to upgrade it a little bit, you know?
That's great, and last night, I heard you had something in New York, was it an album release party of sorts for Sinister?
Well, we were going to, but…they had a problem, they didn't do any advertising. They said, "Oh, well, it's a Jewish holiday, and it's a 10 o'clock show, and you know, maybe we should postpone it to a better weekend." I said, "That's a good idea". So we used the time to rehearse instead. So we're playing this show here now, then we're going to Vegas and play, then we're doing the video for the album.
Yes, I wanted to ask you about that! I heard about the video.
That'll really be cool, and that's going to be good because we're playing at Vamp'd, which is a rock club in Vegas which we play once a year, and this time we're going to do the show, and we've got…Chas West is going to sing with us, and we have the two Akai Sisters who are going to play bass and guitar, they're on the album, and they're really awesome – and then Paul Shortino's going to join us after the Rock Vault, as well as Robin McAuley. And Jim, our singer now, is going to fly out as well, so he's going to come on and do a couple of songs and then we're going to shoot the video a little bit there as well, with the full band. Then three days later, me and Vinny are going to go into the Hard Rock, Vinyl…
Oh, love that place.
We're going to take over the Rock Vault stage with all their screens and the lights and everything, and we're going to do the video there with me and Vinny and Paul Shortino. And then we also have people like Tony Franklin, Jorgen from Gov't Mule, Bumblefoot, Craig Goldy, and all these other guys sending in videos playing the song "Monsters and Heroes". This song is about Ronnie James Dio. The lyrics are like, "Sing a song, singer, you're the man who rocked the world with the songs that we all loved…brought our spirits higher", you know…The chorus goes "Monsters and Heroes, dragons and rainbows in the dark, Monsters and Heroes, search for the Sacred Heart".
Aww, that's fantastic…
So the whole song's about Ronnie. The album is dedicated to Ronnie and our friend Elliott, who played bass with Michael Schenker, and Vinny, and Cactus, and Uli Jon Roth, he passed away too this year. And he owned Dean Guitars and ddrum, and we both play ddrum, he was a good friend of ours, so we dedicated the album to him and Ronnie. And on the album cover, the only lyrics on the cover is "Monsters and Heroes", and there's pictures with me and Ronnie and Vinny with Ronnie, and Wendy gave us permission to use pictures of Ronnie in the video as well. So, first the lyric video's going to come out, it says on there that the song is about Ronnie, dedicated to Ronnie, and when you see all the lyrics, it's awesome, really really cool. And it's the King Kobra guys who are playing on that track with Vinny and me. So it's a unique track, we really love the song. You know, we were real close with Ronnie, Paul Shortino was managed by Ronnie in the old days, so it really ties in. Paul…wrote the lyrics, me and him wrote the chorus. So, the video's awesome, and we're going to do it over those two nights, and then add everybody's video stuff, footage, and it's going to be a lot of fun.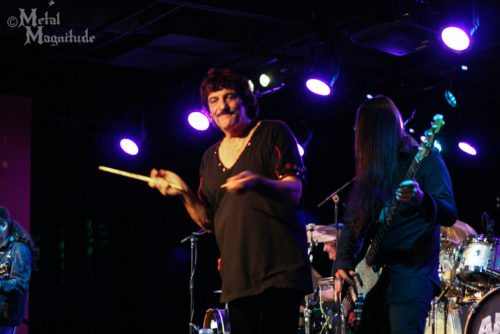 Excellent, that does sound like a lot of fun. I saw that there was a long list of special guests for the lineup, so I had been wondering how that would work in the music video context, having so many people involved.
Well, luckily we're doing it in Vegas, and there's a lot of people in Vegas, you know? I think Carrot Top's going to be in it, and then some other people that live there. But the fact that McAuley and Paul Shortino are in that show, they're going to both come down, and we're going to have Chas, and Jimmy as well, so when Paul's singing lead to that in the video, we can have like, Robin and everybody else, you know, make believe they're singing the background like they do in these videos. You know, so it's going to be a lot of fun.
And that song is going to be premiered over in Vamp'd Vegas, or are you doing it tonight by any chance?
That'll be premiered around the time, I think, when the record comes out? But the lyric video is coming out first, and I've heard talk about Eddie Trunk premiering it on his social media and his website. We'll see, you know.
So, just the concept of Drum Wars as a whole, I know you've been doing it for a while, but could you tell me about how it came about?
Well, it started in 1988 when me and Vinny did a clinic tour together, we had so much fun, cracking jokes on stage, you know, we used to have three, four, five hundred people at a clinic, and we had fun. So then we had a DVD called "Drum Wars", which was really a spoof on the wrestlers, it was like we had a newscaster who'd go, "Drum Wars, tonight at 11". And then we went out and promoted that in a few events, and we always said "Yeah, we've got to put a show together with this", and then finally, after Ronnie passed away and he finished doing Heaven and Hell, I had some time, he had some time, so we said "Let's try and do some Drum Wars". So we did an experiment in a club in L.A., see how it went, and it was packed and we had a good time. And then we did an experiment and we did a Drum War concept in a clinic thing in a store, and that went well. So then we started doing a little here, a little there, and then in 2012, we did a tour of Europe, twenty shows, and that really put the show more together. That's when we realized we had to put more songs in it, make it more like a show – a rock show playing our hits and playing our history. So we put all that together and we'd been doing it like that on and off, you know, when he's off and I'm off, we get an agent to put some shows together and we play. So our total in the last few years, we did about 70 or 80 shows and we have a bit of a little following about it, and this place – Tupelo Music Hall, we came here two years ago, I think, in the old one, and it sold out and it was great, you know, so…So we wanted to do something just to introduce the album on the East Coast and the West Coast, no big deal, one each, you know. And so that's why we're doing these, just to have some fun and try the new songs out. And then later on, we're going to do more US dates, we're doing January and May European tours. So now we're trying to figure out the scheduling between Vinny's stuff and my stuff, that we can put it in to do an American tour to support the record.
That's great, yes, this has kind of just the slight touch of an American tour with two dates.
A year and a half ago we took on this manager, and he's the one that suggested we should do a PledgeMusic campaign…"And then we can do a record, and then we could get a record deal"…so, we did all that and we got this far, we got a record deal and we did a music campaign, and it came out really good. The album cover's awesome, with half a face.
I saw that, with the two of your faces together, that's really cool.
Yeah, and with the stitches, we got a laboratory vibe in it, like a Frankenstein thing, and we called it Sinister, it's perfect. So far, so good, now we're in the promotion stages of the record, getting it set up, as they say.
Right, and it's coming out at the end of next month.
Yeah, the end of October, the 27th, exactly. And we have our PR person, Jon, he's been working it and we have a radio promotion company, and a digital promotional company. So they're all going to be working together and pushing this thing, so by the time the record comes out, with the lyric video and the regular video, people will know about this "Monsters and Heroes" thing, and fortunately, they're doing the hologram Dio tour as well. So that's all almost at the same time, so there's going to be a good tribute to Ronnie, and it's a lot of fun.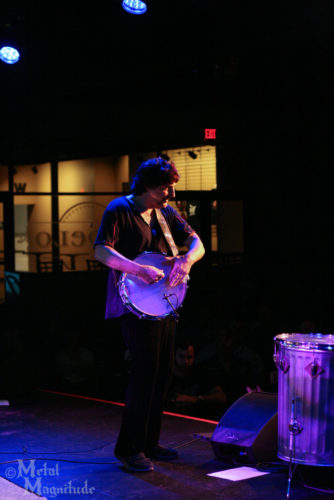 Definitely. And it's appropriate to be talking about him here, because he was from Portsmouth, New Hampshire originally.
He's from here? I didn't know that, he was born there?
Yes! Portsmouth, the eastern Seacoast, that's where he's from.
And then he moved to upstate New York.
Right, so he's known mostly as a New Yorker, but originally born in Portsmouth.
Ah, I didn't know that. New Hampshire boy, wow.
Yeah. So just one more thing I want to get your thoughts on quickly, I know you have to go on stage soon, but…the Hall of Heavy Metal History, I actually covered that event in January of this year, and I know you and Vinny had a presence there…
Oh yeah, Vinny got in last year, I'm getting in next year. Yeah, Vinny's going to actually bring me in. But we were in the audience, and we had fun. My older brother was there too so it was, "Not uh-PIECE, not APP-ih-see, it's ah-PEACH-ee". It was pretty funny. That was good, it was done very well, I thought. Last year, they said, we've got to bring you in next year, I said, "Great, love to do it". It's all good.
That should be another great event, to see how it develops further, being it was something new for this year.
Yeah, it'll be fun…Okay! I'm going to get dressed – good to see you!
Okay, thank you for your time!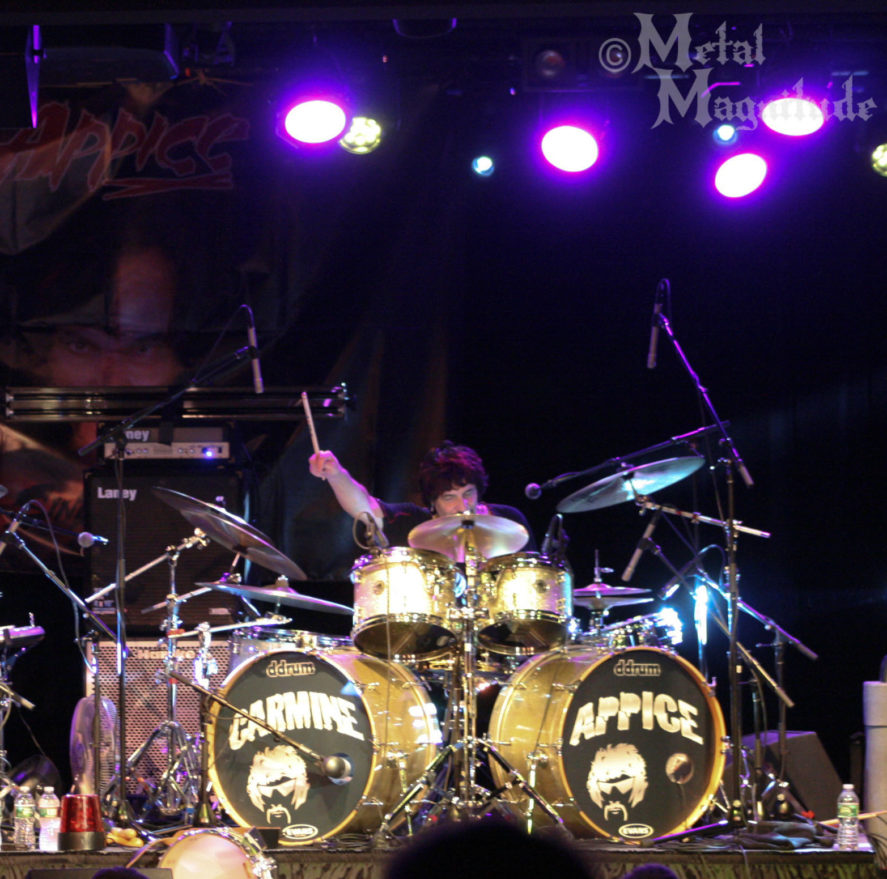 ---
A special thank you to Carmine for the interview. Metal Magnitude's full concert review of the Appice show at Tupelo Music Hall will be up very soon, so keep an eye out. For more, check out http://www.carmineappice.net and http://www.appicebrothers.com.