Concert Review: Appice at Tupelo Music Hall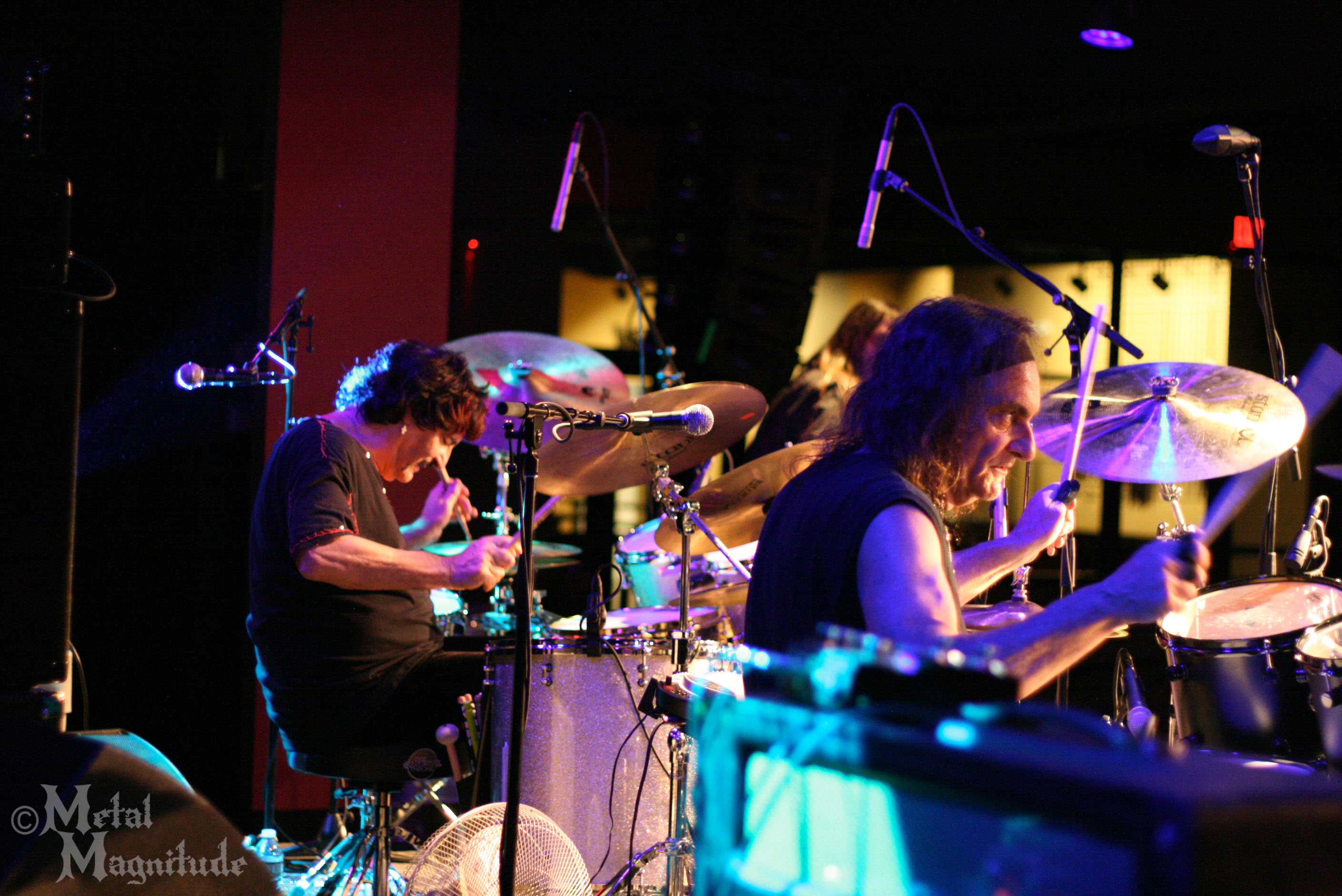 Perhaps you're a fan of Vanilla Fudge, or caught Carmine Appice during his time with Rod Stewart, Ozzy Osbourne, or Cactus. Maybe you were in a crowd somewhere along the "Sacred Heart" tour and saw Vinny Appice behind the kit with Ronnie James Dio, and were always a fan of Black Sabbath's "Dio Years" – or you might be a more recent Kill Devil Hill fan, or possibly have spotted a Last In Line show last year. It could be some, all, or none of the above, but in any case, it'd be pretty difficult to call yourself a Rock or Metal fan and have escaped the works of these powerful percussion legends. Leading two separate illustrious careers, but connected through their shared instrument of choice, not to mention last name (though there's something of a divide on the pronunciation), the Appices have come together at last for a collaboration in the form of a record – Sinister. All this said, it's only natural that a show like "Drum Wars" should serve as a showcase of sorts, covering several eras of the Appice Brothers' musical careers, including their most recent chapter in Sinister.
Derry, New Hampshire's Tupelo Music Hall served as the site of the very first show to premiere new music off Sinister live on September 23rd, 2017. The Appices were joined by a solid group of musicians, featuring Jim Crean on vocals – Jim has been belting out tunes through his formidable voice with the Appice Brothers in their long-running "Drum Wars" shows for some time, and he's also a solo artist who's collaborated with many other fellow rockers. Rounding out the band was the thoroughly talented Artie Dillon on guitar, who's no stranger to the Appice Brothers band himself, and neither is Jimmy Caputo, whose unbeatable bass skills have been a part of the recently-reformed Cactus with Carmine as well. Also featured was a guest appearance from Colleen Mastrocovo, an NFL cheerleader-turned-drummer in her own right who shares a stage with Jim in the NY-based band known as Hair Nation.
Just before the show began, I was able to have a word with Carmine to ask about the new record and some goings-on surrounding the upcoming video shoot, plus the history of these "Drum Wars" concerts – you can check out that interview right here. Before long, the band was ready to go, and the first sound heard as the lights came up was a familiar one, the iconic Black Sabbath track, "The Mob Rules". A perfect opening to the show to introduce the talents of the full band, before the tone changed over and Vinny and Carmine began to take part in what could essentially be called a duel, taking turns soloing in their own personal style while challenging the other to bring it up a notch each time in these more-than-just-figurative "Drum Wars". An entertaining and impressive display of skill indeed. Right when it seemed the wars had come to a brief moment of respite, the remainder of the band made a strong return to the stage, ready to crank out more some well-loved Dio hits and get the crowd involved with singing along to "We Rock" and "Holy Diver" – naturally, I participated subtly from behind my camera…bit tricky to keep a steady lens at the same time, but worth it.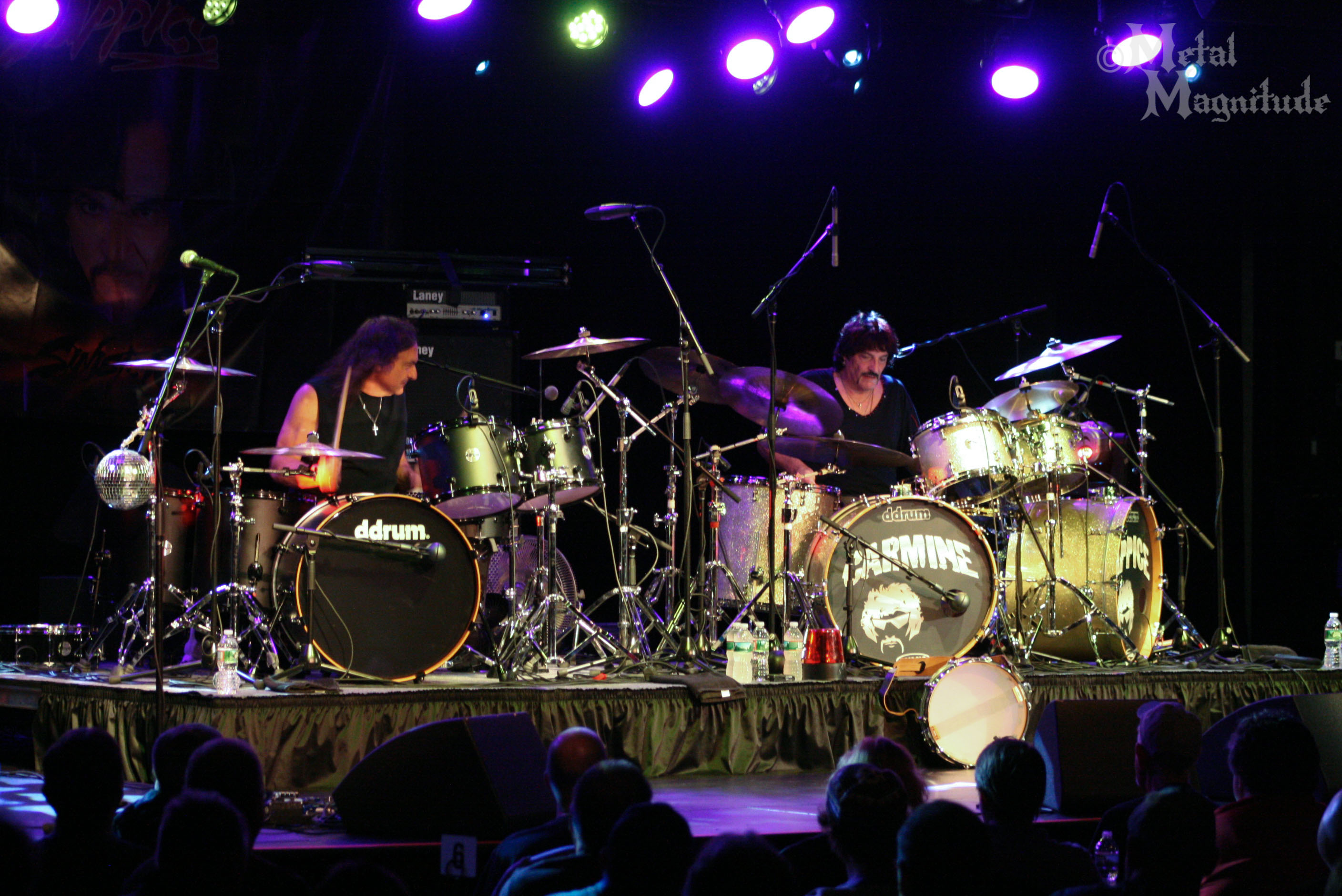 Finally, it came time to debut some new music, and what better place to start than the title track? "Sinister" shows a perfect example of heavy meeting progressive and blending together with the greatest of ease. If this song is taken to set the tone for the record, no doubt there's great things in store. Later on, we were given the impactful live debut of "Monsters and Heroes", the track dedicated to and written for and about the late great (New Hampshire-born) Ronnie James Dio, with perfectly crafted lyrics. It's a track Dio himself would likely have been very proud of – melodic, anthemic, and wonderfully executed, with a chorus that doesn't quit and sticks with you long after the song has ended. In between the new tracks, the band delved further into Carmine's career by putting a slightly surprising choice onto the setlist, given its pace up to that point – Rod Stewart's "Do Ya Think I'm Sexy", co-written by this Appice brother himself – but it fit right in with a heavier spin, following a nod in Ozzy's direction in "Bark At The Moon".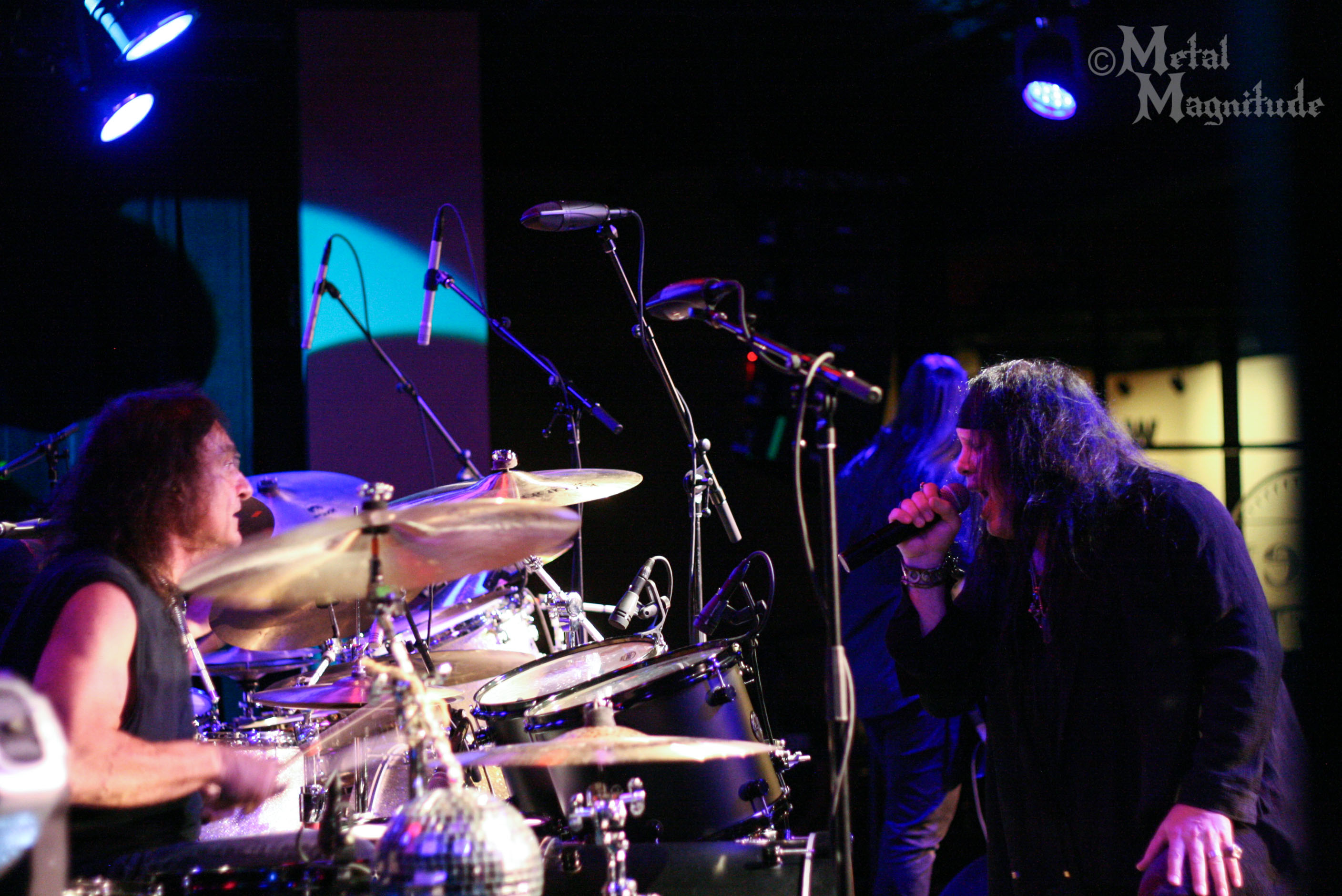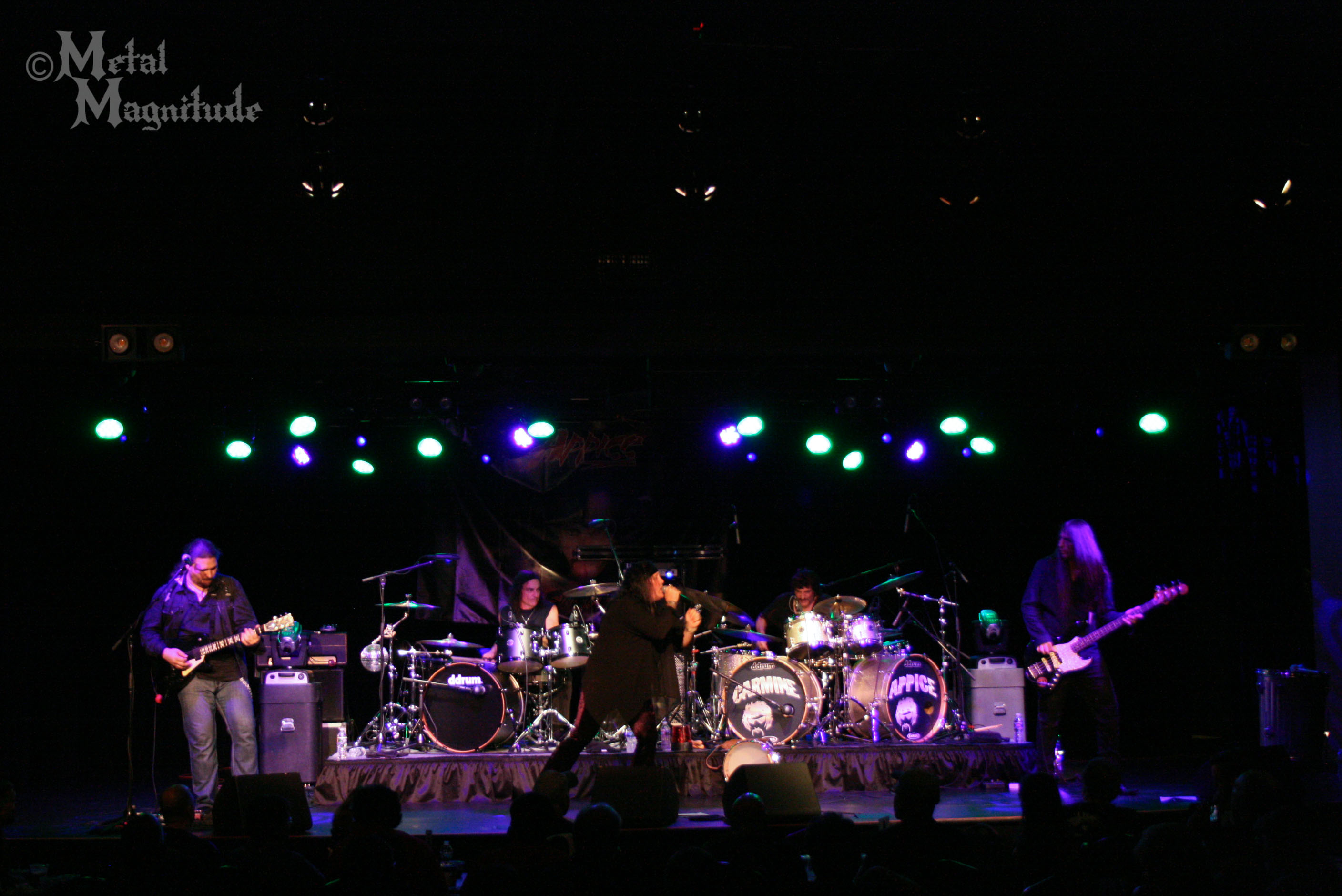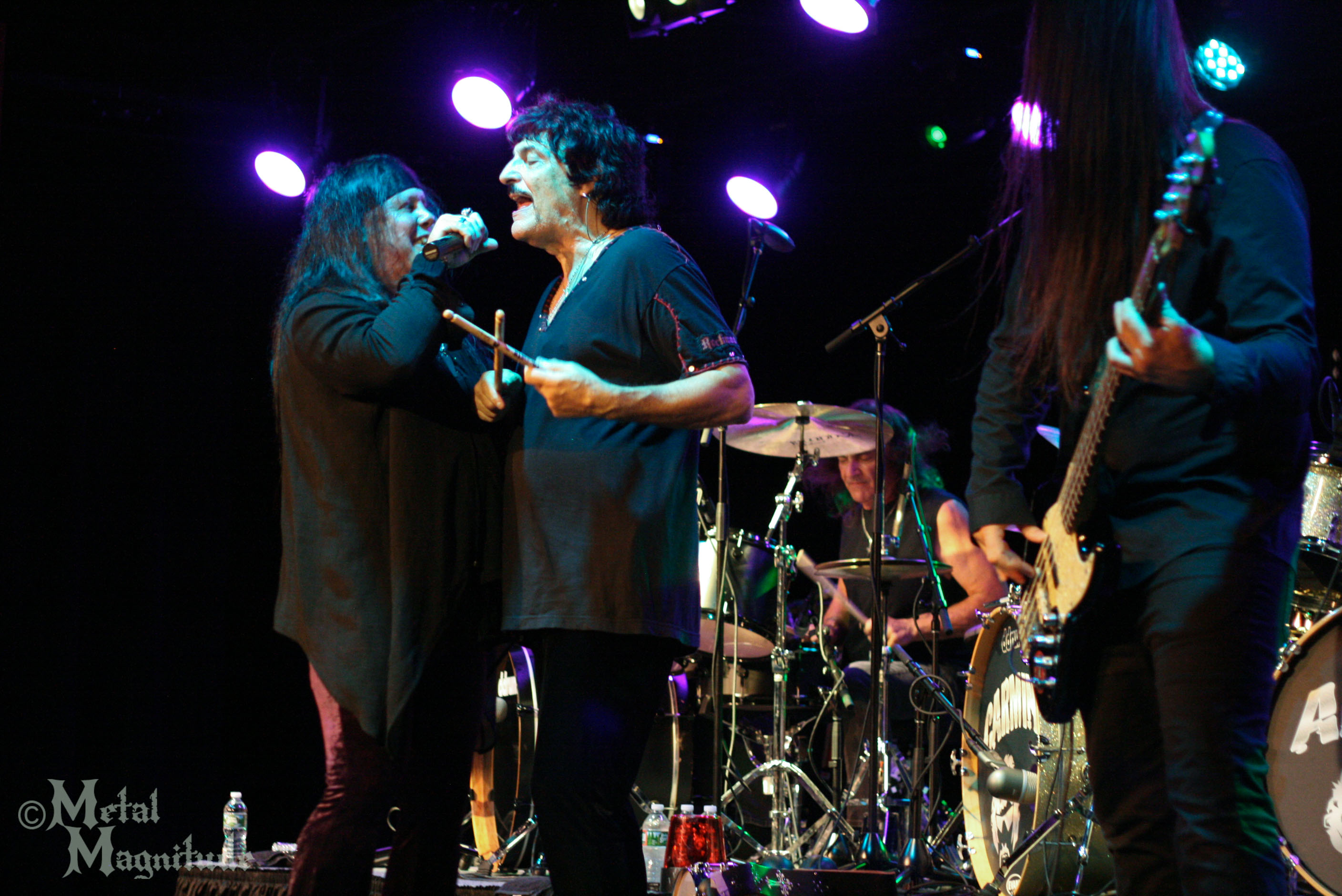 About halfway through, Carmine stepped forward to chat with the audience for a few, deciding to delve into the story of why the three Appice brothers pronounce their name differently – but, this question still remains unanswered as Vinny made for a comedic moment by playing with all his might and drowning out the story. Looks like we'll all just have to go with Carmine's idea of saying "A-P-P-I-C-E". A few more musical antics took place with a bit of an off-the-cuff improv session. Carmine stepped forward once again, this time beating a snare drum he wore on his chest, while Colleen steadily chimed in on her makeshift instrument – a trash can that had been visible on stage for most of the show – with Vinny jumping in from time to time behind his kit. Once this improvisatory section was through, Carmine went to take the extra "drum" off stage, but not before Vinny had a shot at it (pictured below).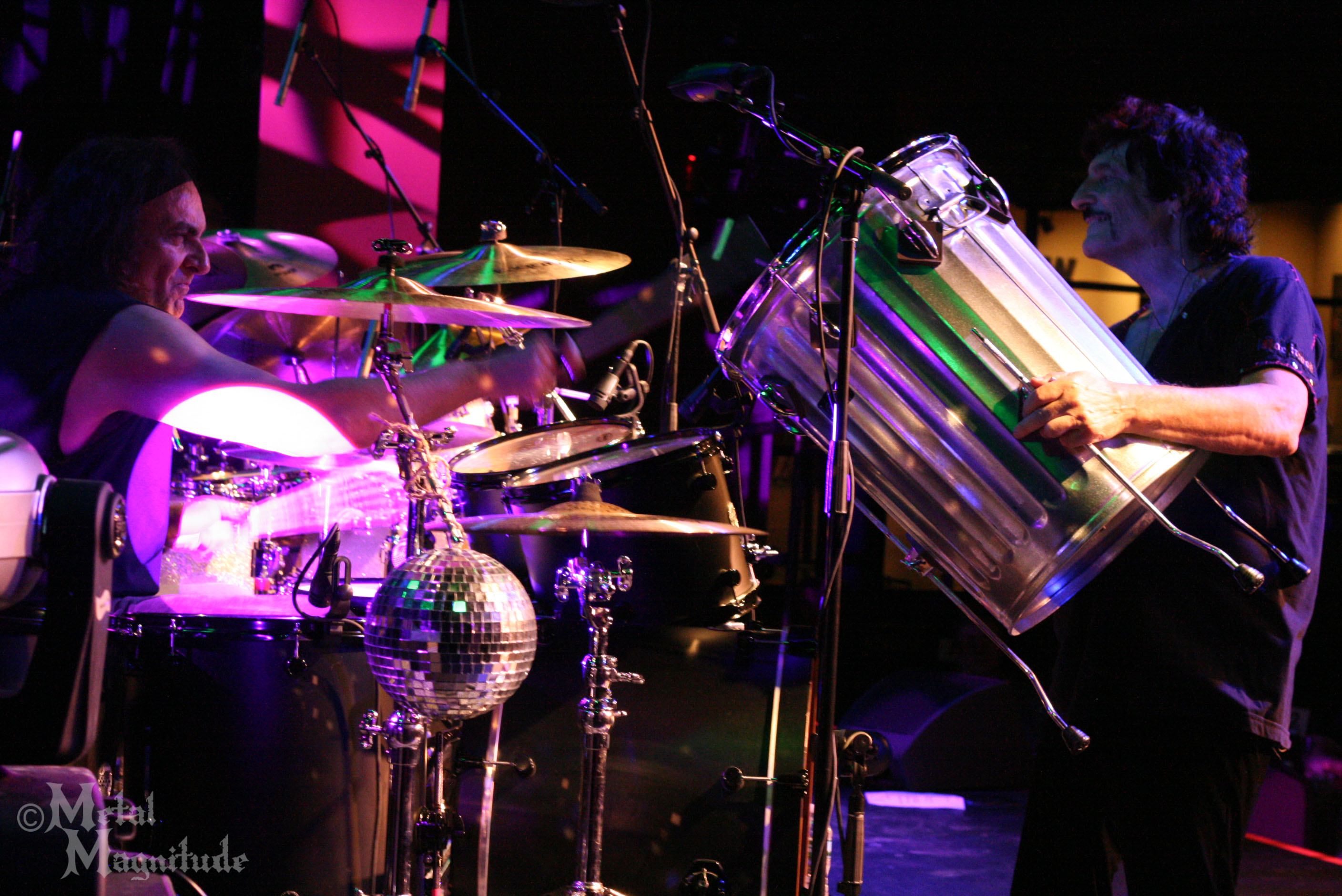 The vibe throughout the audience was unquestionably one of excitement throughout, with everyone getting a kick out of the gags, solos, and duels, enjoying the revamps of classic tracks they know and love while delighting in hearing something brand-new. For the last quarter of the show, the set was led by more Ozzy, then another touch of Dio ("Crazy Train", "Stand Up and Shout"), all leading up to the grand finale known as "Sabbath Mash", where pieces of songs like "Paranoid", "Iron Man", "War Pigs", and more were all joined together to make one grand scale medley of Black Sabbath to close out an incredible concert.
October 27th marks the release date for Appice's Sinister, which is not too far in the future at this point – if you weren't able to catch either the East Coast or West Coast one-off dates for the live show, you can still hear the recent premiere of "Monsters and Heroes" in lyric video form via http://eddietrunk.com/appice-brothers/. Carmine and Vinny also recently gathered with many of their Appice band members to put together a music video for this same Dio-dedicated track, which should make an official appearance any day now leading up to the release.
All in all, the idea to incorporate Sinister into the established "Drum Wars" show was a brilliant one, and I look forward to seeing what else the near future holds in light of the album's release. During our interview, Carmine mentioned plans for future touring in support of Sinister, covering Europe and the US – my advice is, when the opportunity comes along to catch this show in your corner of the world, don't miss it at any cost. Visit http://www.appicebrothers.com/ for more.
Photo Gallery: