Appice to Perform Debut Album at Select Live Shows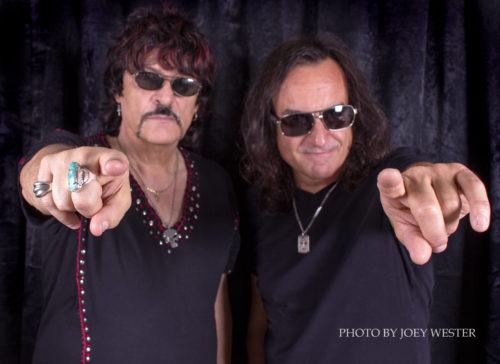 There's something "sinister" on the way from a project formed by two legendary figures in the rock and metal worlds…and they just happen to be brothers who are both drummers. Appice is the name, and Carmine and Vinny have signed to the SPV/Steamhammer label to put together a debut album under their new moniker. Sinister has a long list of guests to round out the collaboration, which Vinny sums up nicely by stating, "As Ringo said: with a little help from our friends." The full lineup of the record is as follows, classified by instrument:
Carmine Appice (drums & vocals)
Vinny Appice (drums)
Jim Crean (vocals)
Paul Shortino (vocals) (Rough Cutt, Ex-Quiet Riot)
Robin McAuley (vocals) (MSG)
Chas West (vocals) (Ex-Lynch Mob, Resurrection Kings)
Scotty Bruce (vocals)
Craig Goldy (guitar) (Ex-Dio, Ex-Giuffria)
Bumblefoot (guitar) (Sons of Apollo, Ex-Guns N' Roses)
Joel Hoekstra (guitar) (Whitesnake)
Mike Sweda (guitar) (Bulletboys)
Erik Turner (guitar) (Warrant)
David Michael Phillips (guitar) (King Kobra)
Tony Franklin (bass) (Ex-Blue Murder, Ex-The Firm)
Phil Soussan (bass) (Ex-Ozzy Osbourne)
Johnny Rod (bass) (King Kobra EX-WASP)
Jorgen Carlson (bass) (Gov't Mule)
Erik Norlander (keyboards) (Lana Lane)
Fans may notice that among the list of "vocals", one included name just happens to be Carmine's, to which Vinny responds, "Carmine has been singing lead and background for years. He's a very good singer and I'm glad he sang one number on this record." Sinister's 13 tracks are sure to give ample time for the illustrious list of guests to show their talents, and October 27th marks the official release date. Before then, however, Carmine and Vinny are hitting the road very soon for three special exclusive tour dates in which they'll perform Sinister live. In order to catch one of these special events, you'll have to be in the right place at the right time to see the Drum Wars and those "right places" to be are:
Cutting Room – New York, NY – 9/22
Tupelo Music Hall – Derry, NH – 9/23
Vamp'd – Las Vegas, NV – 9/29
If you're a west coaster, or happen to be visiting at just the right time, you might also have the chance to be a part of Sinister in a unique way, as Vamp'd will set the scene for a music video shoot for the track "Monsters and Heroes".
Amidst all the news, the only piece of information on Appice that has not yet been revealed is exactly how to say the name of the band – but then again, that likely depends on which brother you ask.
Sinister is available for pre-order on Amazon now. Head to http://www.carmineappice.net, http://www.vinnyappice.com, https://www.facebook.com/steamhammerofficial/, and http://www.spv.de for more info.