Interview: Catching Up with Chip Z'Nuff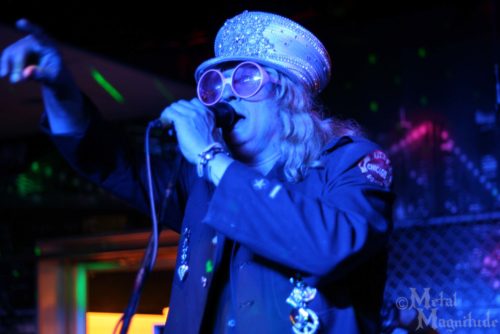 January 29th, 2017, Enuff Z'Nuff hit The Canyon Club in Agoura Hills, CA, as part of their tour with Ace Frehley. A trek across the scenic Pacific Coast Highway plus a hike up some hilly roads is all it takes to get to this venue from Hollywood, and well worth the trip. It was a fun night with a fantastic show, and always great to see Enuff Z'Nuff live. I had interviewed Chip a few months prior, when the band played with Tracii Guns at The Backstage Pass on Long Island, NY. But a new year, new album and new tour have all come about since then, so this show was a good opportunity to catch up with Chip and ask a few questions about what's new in the world of Enuff Z'Nuff.
---
Here at the Canyon Club tonight, you just got offstage from playing an awesome set. The last time we spoke was just before the album Clowns Lounge came out and you mentioned 2017 was looking like a big touring year for Enuff Z'Nuff, and it seems like that's already coming true.
It certainly has, my grandpa always used to say "careful what you wish for". The record came out early December on Frontiers Records, and it's basically an archival record as I've said before, featuring the original Enuff Z'Nuff and Enuff Z'Nuff as we are today. First single's called "Dog On A Bone", came out December 2nd and it's already gone through its first pressing. It's selling really well and I'm so shocked because everybody says, well, no one buys records, they just go out and get it on iTunes and Amazon, wherever you can get the record, and just download it. But people are buying the record every single night. We've sold out on this tour. We started on the 12th of January, and Ace Frehley met up with us on the 18th. Now I think we're 11 or 12 shows into the tour with plenty to go as well, and I can't thank Ace Frehley enough for taking us out. We did the Kiss Kruise, that was terrific, and now Ace takes us out, it's like this whole thing for Kiss. It's gone full circle and the shows have been great every single night, they treat us terrific. I couldn't ask for better buddies to be out on a tour with, and it's nice to be playing to a thousand people a night.
Sounds awesome, and that is pretty funny – sort of a Kiss theme going on there, from the cruise to Ace Frehley. You mentioned Clowns Lounge was released on Frontiers, and this record label seems to be more and more on the rise every day, such an abundance of rock bands who got their start in the 80's seem to be releasing new material through them, so can you talk a little about the label? What it was like working with them to release Clowns Lounge?
It was very tedious. The label wanted the record a certain way. I think when they signed the band, they thought we were just going to go in studio and start writing brand-new songs, which would be impossible because this record would cost a hundred grand to make, okay? But I had stuff in the archives, I'd been saving everything that we recorded from the early days, and I was able with the blessing of the good Lord to put together a nice twelve-song record showcasing Enuff Z'Nuff. And after going through weeks and weeks of overdubs, going through mastering back and forth with Frontiers, we finally all agreed upon the record and we put it out, and they licensed it to Japan, which we do very well over there. It's a worldwide release and we're getting a lot of press and it seems like everybody's coming out of the woodwork wanting to help Enuff Z'Nuff. We've always been the critics darlings to the press, and people seem to want to help the underdogs, so it looks like this year's shaping up to be pretty successful for us as far as touring goes. We haven't played this many dates in I can't tell you how long. It was always the "weekend warrior", go out there on the weekends then fly back home, and now to be out there traveling around with the whole band and the small crew is very refreshing.
How much, if anything, of the new record is going to be making it onto the setlist for these recent shows?
Probably the first two singles. When we first accepted this tour with Ace, and Ace asked — he's like E.F. Hutton, when Ace speaks, people listen — and he said to me, "We'd love you to support us on this tour, we'll give you a 45 minute set", I wanted to put the new stuff in there, but no one has the record, it's too early to put the new stuff in, I thought. My focus was to push the early records that sold a lot, and the first two records were gold records, did very well for us, so I focused on early records – "Baby Loves You", "New Thing", "Fly High Michelle", "Heaven or Hell", "In The Groove". I put "Jean Genie" in the set, the Bowie cover because we just lost one of the greatest artists of the last generation, and I just wanted to pay respect to our forebearers and he's one of them, and it's on our Covered In Gold record. So, I focused on the first three records basically, and there's twenty albums, there's a lot of material to pick from, and we'll see how the record does. If things pick up and we get a chance to do more touring where we can play full shows, I'll put those songs in the setlist. "Dog On A Bone" and "Rockabye Dreamland", those will be the first two songs off the record.
Definitely looking forward to hearing those live, and that was a great setlist you described just now as well. It's clear that Enuff Z'Nuff fans love to hear the classics you said, "Fly High Michelle", "New Thing"…but do you personally have a favorite Enuff Z'Nuff song to play live?
I love 'em all. I really do, I know everybody says about their being able to love all the records, and my answer is no exception. Every single record that we've put out I embrace, some more than others. As far as favorite songs to play, I can't say there's a favorite. I'm grateful for all the songs that we've written, and whatever fans want to hear is what I want to play. That's why on this tour right here I wanted to focus on the stuff that a lot of people knew, that Sirius radio and other stations around the country have played. And as I said before, we'll see how the tour goes, if there's more longer shows, and we get a deeper set, I'll go farther into the catalog and pick out some great stuff. There's material off Paraphernalia and the Question Mark record, and the Chip and Donnie record, Welcome to Blue Island, that are great songs – something off 10 maybe, "There Goes My Heart", 'cause it's been in a couple of movies. Focus on the songs that people know about more than anything, it's not going to be a set of nothing but B-Side songs, because the fans don't know those songs. Being on tour with Ace Frehley, it's predominantely a Hard Rock/Heavy Metal set, so I wanted to pick the hardest, strongest songs that we had for that era.
I also noticed your name on the lineup for the Rock and Roll Fantasy Camp in a few weeks. Can you talk a bit about that event, have you ever been involved with it before?
I certainly have, I did it a couple years ago with Cheap Trick and Blue Oyster Cult, it was very successful. The following year, David Fishof from the Rock and Roll Fantasy Camp, who runs the whole thing, says "Want to do it again? I have Paul Stanley and Don Felder from The Eagles." I said, "I'm in", before he finished talking about it, I said yes! It was a great show, Steven Adler from Guns 'n Roses came out, hung out with me and Vinny from Black Sabbath. Great cast of characters on these wonderful moments of Rock and Roll Fantasy Camp because you're helping make dreams come true for people that have jobs and they never took a chance on doing what we do – there's quite a risk to doing this gig. The new camp, though, is probably the most incendiary one of all of them. Stone Temple Pilots, Alice in Chains, Buckcherry, Candlebox, Filter, the list goes on of great guys, wonderful bands out there, I'm so blessed and proud to be a part of it. These are all guys that are still going after 15, 20 years, real veterans who've written great songs and have left an indelible mark and I can't wait to get out there and play these Stone Temple Pilots songs and Alice in Chains tunes, it's going to be great.
Exciting stuff. So, once again and also to close things off, you've of course got the tour with Ace Frehley right now, can you just give a little peek, a summary of what else is up next for Enuff Z'Nuff?
I can tell you a couple of things, I know we're going to go out on the Poison tour with Tesla and, uh…
Def Leppard?
I'm not sure if it's Def Leppard on the shows we're doing, or it might be Tom Keifer from Cinderella, who's a fuckin' star, he's so good. He really is, he brings it every single night. And they'll give us three or four shows, and if it does well, maybe we'll get more, but I know we're doing that. The next task at hand for Enuff Z'Nuff is Europe. We leave on the 27th of March and we go to Europe headlining a tour all the way through April, which is great for us – longest tour we've ever done in Europe. So that's the next thing we're going to be doing as a band, with real focused guys. You know, back in the old days, it was an ounce of cocaine, it was Jack Daniels, it was a pharmacy full of pills…but these guys are focused, they want great shows every night, and I think we really deliver it. You come out and see Enuff Z'Nuff, we're going to bring back those memories – the first time you fell in love, the first time you fucked, whatever it may be, the first time you were happy in life and you went to a rock show. And that's what we bring every single night, I think. I'm looking forward to working the rest of the year and supporting the Clowns Lounge record along with our catalog, and I can't thank the fans enough for supporting us all these years, it's 28 years now for Enuff Z'Nuff while the average life expectancy for any band's about 5, so for us to still be out there's a miracle and I thank the fans.
And thank you, for taking the time to talk with me.
Thank you very much.
---
Keep up with Enuff Z'Nuff via their official website.