Concert Review: Enuff Z'Nuff and Tracii Guns at The Backstage Pass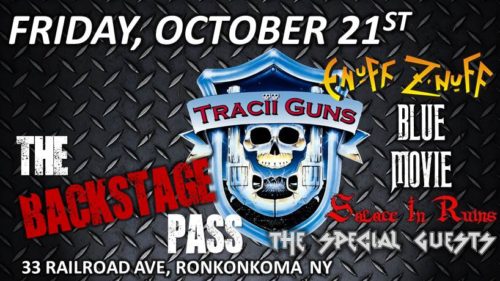 The Backstage Pass is a venue in Ronkonkoma, NY that has been attracting many a classic Hard Rock band lately, to local audiences' delight. Last week, two such bands made stops along their tours at The Backstage Pass – Enuff Z'Nuff and Tracii Guns. At the very start of the night was The Special Guests, followed by Solace In Ruins who were also among the openers, bringing to the stage a style of Grunge-tinted Heavy Metal, with melodic yet edgy vocals and riffs abound. The band Blue Movie followed soon after, combining a somewhat unusual usage of electronic backing tracks with an energetic heavy rock/metal sound.
After a lengthy soundcheck, the long-awaited Enuff Z'Nuff came on stage at last. This actually made for the third time I've seen an Enuff Z'Nuff show this year, having caught their sets at both the M3 Rock Festival and Hair Nation Festival. The band's founder and bassist Chip Z'Nuff has recently taken over the role of lead vocals and is handling that role very nicely (since the departure of Johnny Monaco, who in turn took the place of original singer Donnie Vie), greeting the crowd as his brothers and sisters and treating them all as such, even coming out off stage to get up close and personal several times throughout the show. The current lineup of Enuff Z'Nuff is quite a strong one, also featuring Tony Fennell, who formerly sang with New Wave/Alternative band Ultravox, and Tory Stoffregan, who also plays in the The New Black 7, a Country/Rock crossover band. On the drums sits Daniel Hill, nephew of Dusty Hill of ZZ Top fame – after hearing him play, there's no doubt some rock 'n' roll skills could have been inherited. This combo of such varied backgrounds results in a high level of musicianship combined with a strong ability to entertain.
Opening the set was the song "Baby Loves You", followed by tracks like "Kiss The Clown", "Right By Your Side", and "Heaven or Hell". A well-done and enjoyable Bowie cover took some by surprise in the form of the song "Jean Genie", following one of my personal favorites of Enuff Z'Nuff, "In The Groove". Another highlight was some guitar work from Chip Z'Nuff, as Tory Stroffregen grabbed hold of a drink and released control of his guitar while Chip grabbed the guitar from behind and blindly played a blazing solo, all the while Tory downed the drink. That's a moment I wish I had caught a good shot of, but might've been a bit too busy watching. Needless to say, it was impressive. As the show approached the end, "New Thing" and "Fly High Michelle" were the expected but well-received closers to the set, two songs that never get old and always sound great – and I'm sure I'm not the only one who gets "New Thing" stuck in my head for a long time after I've heard it. After the show, I had the opportunity to talk with Chip Z'Nuff, and you can read the full interview right here.
I'd highly recommend catching the band whenever they're in your town – you'll be in for a treat. Whether it's a faithful fan following the band since the start, or a newcomer just getting in the groove now, one thing's for sure – audiences can't get "enuff" of Enuff Z'Nuff.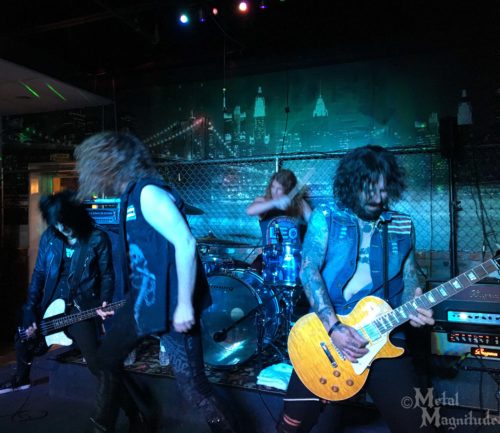 Up next to close out the night was Tracii Guns, with his current solo band which also features Michael O'Mara on vocals, as well as Johnny Martin on bass, and Shane Fitzgibbon on drums – the latter two both doubling as part of the lineup of L.A. Guns' Phil Lewis and Tracii Guns, including a recent appearance at Hair Nation Festival. They've been playing frequent shows as part of the Tracii Guns Band and they're also set to be part of the new L.A. Guns records with Frontiers Music Srl as well. Michael O'Mara mentioned this fact during the show, and stated that though he won't be performing on these records, he will be contributing to some of the writing.
The band started things off with some Led Zeppelin rather than L.A. Guns, and a hard-hitting rendition of "Communication Breakdown". Without hesitation and with plenty of energy, the L.A. Guns songs kicked right into action after that, starting with "Sex Action", and continuing on with songs like "No Mercy", "One More Reason", and "Electric Gypsy", just to name a few – All of these being, of course, tracks off the L.A. Guns self-titled debut album, appropriate for the tour labeled "1988". Some hits off later albums, such as "The Ballad of Jayne" from Cocked and Loaded, and "Over The Edge" off Hollywood Vampires, made their way into the set as well.
Tracii skillfully adds new twists and heavy turns here and there, subtly adding a fresh and different feel to the classic L.A. Guns songs while still keeping comfortably close to the originals, and always with a certain signature Tracii Guns sound. All this alongside a solid band made for one great show.
[All concert photos ©Metal Magnitude 2016. Please do not copy or use without permission.]
For more on Enuff Z'nuff, visit the band's official website here
For more on Tracii Guns, visit his official Facebook page here