Concert Review: Hair Nation Festival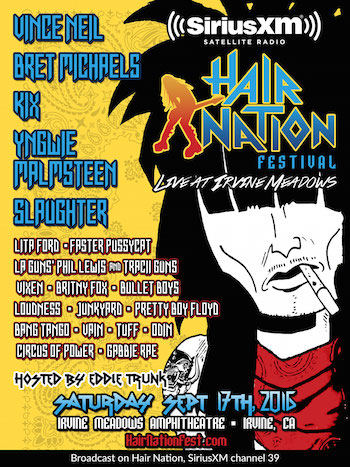 Rock and Metal fans headed out on a hot day in SoCal for the first-ever SiriusXM Hair Nation Festival on September 17th, 2016. Classic Hard Rock of the 80's (and early 90's) was the main focus of this sunny and beautiful day, where the spirit of the Sunset Strip was alive and rockin' at Irvine Meadows Amphitheater. Hosted by Eddie Trunk, the Festival had a great turnout and made for an exhilarating event of grand proportions with its 22-band lineup.
Last year, a show known as "Cathouse Live" took place at the same location, and though this year's Hair Nation Festival was the first of its kind, the event could almost be considered a second year of that Cathouse event, featuring a good amount of the same bands on the bill. Either way, with a stellar lineup split between a rotating Main Stage and a second stage known as the Festival Stage, the whole day was packed with non-stop sets from bands back-to-back. While this kind of overlapping setup leads to an amazing jam packed day and night of rock 'n' roll, it also leads to the struggle faced by many festival-goers – making decisions between which bands to see and which bands to skip in order to see the others. Personally, I did my best to catch every act, and very nearly succeeded, though there were a few I had no choice but to miss.
The Festival kicked off with the winners of last month's Battle for Hair Nation that took place at the Whisky a Go Go – The Aviators and Electric Hound – who were selected to open up the Main Stage and Festival Stage respectively. Festival Stage photo pass and camera in hand, I headed to the second stage pit to catch the band hailing from Hesperia, CA, Electric Hound. The trio of Ted, Billy, and George Cendejas showed a classic-tinged originality and strong talents that came through loud and clear throughout their set – I look forward to seeing what's next for these up-and-coming rockers.
I stopped by the Main Stage after Electric Hound's set for Tuff's performance and happened to catch the fan favorite "American Hair Band". The band sounded great, with a lineup of frontman (and Metal Sludge CEO) Stevie Rachelle, drummer Tod T Burr, and a special guest in the form of guitarist Howie Simon – more on that in my interview with Tuff bassist and founding member Todd "Chase" Chaisson.
The second band to hit the Festival Stage was Odin. While the band doesn't tour frequently, instead getting together for the occasional reunion show, Randy O., Jeff Duncan, and Aaron Samson, with Shawn Duncan as drummer for both Odin and BulletBoys, delivered a Heavy Metal show that demanded attention and kept hold of it from start to finish.
Britny Fox took to the Main Stage with a brief but energetic show including "In Motion", "Louder", and the well-known hits "Long Way to Love" and "Girlschool". Tommy Paris' strong voice soared and Chris Sanders smashed a guitar or two before proceeding to figuratively set one on fire with his shredding, while Billy Childs and Johnny Dee showed off their skills in a tight rhythm section. Later in the evening, I was able to catch Billy for an interview, and we discussed the latest with Britny Fox.
Unfortunately, I missed both Gabbie Rae and Junkyard, as both of these happened to take place at the same time as another interview. Gabbie Rae is a young rock singer who has played events like the M3 Rock Festival and recently opened for bands like Stryper, Kix, Vince Neil and Dokken. I did see her at M3 earlier this year, and she definitely has both talent and potential – I'm glad to see her quickly on the rise. As for Junkyard, though I wasn't there for it, I heard later on that the band played a brand new song, "Wallet", off an upcoming record, in addition to classic tracks like "Hollywood" and "Simple Man".
Enuff Z'nuff was next, fronted by Chip Z'nuff, with his signature sunglasses and multicolored bass strings matching the spirited bass lines and quality vocals he brings to the stage, backed by Tony Fennell, Tory Stoffregen (guitars), and Erik Donner (drums) providing solid music and spot-on harmonies. The band took the place of Loudness, who was originally scheduled to be part of the lineup, but didn't make it to the Festival after all. Just finishing up an interview around the time Enuff Z'nuff took the stage, I missed the first part of their set but was fortunately able to at least catch the band's well-known (and well-loved) songs, "New Thing" and "Fly High Michelle". Flying high on these like-new things – or songs, rather – the crowd was clearly thrilled to hear them too. Circus of Power was the focus of the Festival Stage at this time, who I only saw for a moment as they brought some East Coast Heavy Metal to an enthusiastic crowd in SoCal.
BulletBoys were up next on the Main Stage. When I talked with Frontman Marq Torien later that night, he said that it doesn't matter if it's for one person or a thousand, the BulletBoys go out there and perform – and that they did. A killer rock'n'roll show fully equipped with backup singers (The Pistolettes) and a brass section is what awaited those in the stands for this set, one that was packed with everything from the BulletBoys best-known "Smooth Up In Ya" and "For The Love of Money" to new tracks like "Rollover", which were well-received – something else that Marq and I discussed during the interview. Drummer Shawn Duncan returned after his earlier performance with Odin, moving from one stage to the other to take his place with BulletBoys and joining Chad MacDonald on bass and Nick Rozz on guitar.
Another band that was also well-received was Bang Tango, banging out tracks like "Someone Like You", "Dancin' On Coals", and the more recent "My Favorite 9". Earlier in the day, I had the chance for an interview with the band, where we talked about the Bang Tango movie among other topics, including a new album that's in the works. With the current lineup of original vocalist Joe Lesté alongside Lance Eric on bass, Rowan Robertson on guitar and Timmy Russell on drums, the band played a sturdy, heavy hard rocking set.
Next up, Vixen took the Main Stage by storm, fronted by Janet Gardner with amazing vocals, along with incredible guitar work from Gina Stiles, strong and proud bass lines of Share Ross, and powerful percussion by drummer Roxy Petrucci. "Cryin'" and "Edge of a Broken Heart" were some highlights of the show, but if there's one thing that anyone who's had the opportunity to see them live will learn, it's that any song is always sure to be a great performance from this dynamic and energetic band.
At this point in the day, as much I would have liked to be in two places at once and see the full sets of both Pretty Boy Floyd on the Festival Stage and Faster Pussycat on the Main Stage, the best I could do was split my time between them, managing to make it to some of Faster Pussycat's show a little later on. While I've experienced the power of Pussycat live before (and what a power it is – don't hesitate to catch them live whenever you can), Pretty Boy Floyd was a first, and didn't disappoint. With the hard and heavy yet oh-so-catchy "Leather Boyz with Electric Toyz" as an opener, the band amplified the day's overall feeling of glam-style decadence. Proudly holding up a bottle of Coldcock Whiskey, frontman Steve Summers enlivened the audience with a shout of "I want Faster Pussycat to hear you guys over there!" – eventually Steve tossed aside the whiskey and abandoned the stage, jumping off and joining us in the pit to get up close and personal with the audience. All the while, founding guitarist Kristy Majors, bassist JK Famous, and drummer Ben Graves each brought their talents to the table while keeping the music and fun going on stage.
Meanwhile, Faster Pussycat delivered songs like "Slip of the Tongue" and "Bathroom Wall" with all the self-proclaimed "sleaze" they're known for, even while showing a softer side in "House of Pain". Original Frontman Taime Downe belted out song after song over the grooves laid down by bassist Danny Nordahl, fitting in with Chad Stewart's unbeatable drum work while leaving room for the sturdy rhythms and solos of impressive and in-your-face guitarists Xristian Simon and Ace Von Johnson.
The arrival of L.A. Guns to close out the second stage was highly-anticipated and drew in what was probably the largest crowd the festival grounds saw all day and night. If you've seen the Phil Lewis-fronted L.A. Guns recently, this was not quite the lineup you'd anticipate – the lineup that includes Steve Riley and Kenny Kweens – as indicated by the way the band was billed: "L.A. Guns' Phil Lewis and Tracii Guns". The makings of an onstage reunion between Phil and Tracii has been in the works for a while, and this show was among the first to make it happen this year. As to be expected, they were met with many thrilled fans at the festival excited to see this reunion in action. The show also made for what was essentially a hybrid band lineup, combining Phil Lewis' current L.A. Guns (Phil himself alongside guitarist Michael Grant) with members of Tracii Guns' own band (bassist Johnny Martin, drummer Shane Fitzgibbon, keyboardist Walter Ino), who all added something unique and effective to the overall sound. The guitar work between Michael and Tracii was a great combo, as they traded riffs and solos, each displaying phenomenal talents in their own way, while Phil's outstanding voice and stage presence remains brilliant as ever. Phil and Tracii each chose a particular song to bring to the stage – Tracii's choice was the opener "Killing Machine", while Phil decided on "Don't Look at Me That Way". "Never Enough", "Rip and Tear", and "Over the Edge" were among other favorites to make it onto the setlist.
Recalling the show later on, I was surprised to realize it only lasted for about eight or so songs – the amount of vigorous enthusiasm and rock 'n' roll action emitting from that stage, filling the festival grounds with a buzzing exuberance, felt as satisfying as a full two-hour concert that fed the "gypsy souls" of those who had the pleasure of seeing them.
The overlapping set struggle strikes again –  if you were by the second stage during this time, you probably missed most of Lita Ford and Slaughter, but I did manage to hear some of Lita Ford (whose birthday was celebrated onstage by Eddie Trunk during the show) and the well-executed performances of songs like "Gotta Let Go" and "Close My Eyes Forever" show her "Larger Than Life" talents are not to be questioned. A quick run back to the Main Stage shortly after the L.A. Guns set gave me a brief glimpse of Yngwie Malmsteen before I headed to another interview. Needless to say, even just a glimpse of the legendary virtuoso never fails to impress, and that would be an understatement. With a setlist joining together classical covers and the Star Spangled Banner alongside Yngwie's shredding metal originals, the fury was released and unleashed on Irvine that night.
Emerging from the trailers backstage after some interviews, I was just in time to hear one of my favorite Kix songs, "Cold Blood", which was dealt beside plenty of other hits and deep tracks dished out by this electrifying and always fun band. It's almost difficult to put into words the sheer energy level this band consistently radiates every time you see them – something best experienced rather than described. That energy kept going when the Bret Michaels Band arrived, including a recent addition, bassist Eric Brittingham, formerly of Cinderella. One Poison song after another got just about everyone up and moving, encouraged by all the movement on stage during the upbeat and energetic delivery of songs like "Talk Dirty To Me" and "Look What The Cat Dragged In", and of course, the mega-hit "Every Rose Has Its Thorn" led into "Nothin' But A Good Time" as their show came to an end. A little Lynyrd Skynrd was also part of the show, with a cover of "Sweet Home Alabama".
The last act of the Main Stage and of the night was headliner Vince Neil, with a backing band consisting of the current lineup of Slaughter pulling double-duty in both bands – Dana Strum (bass), Jeff "Blando" Bland (guitar) and Zoltan Chaney (drums). Two different sets in just a few hours may seem like a lot for any band, but not a single member showed any signs of it, playing with a fresh energy while bringing the event to a close. Vince has kept the Mötley Crüe songs going live and going strong, even post-The End. A touch of Zeppelin made its way in with "Whole Lotta Love", but the audience was treated to a mostly Mötley show, complete with Mötley Crüe hits like "Dr. Feelgood" to start things off, "Home Sweet Home" which had everyone singing along, and "Kickstart My Heart" to get the adrenaline rushing up to the very end with the high-energy closer "Wild Side".
As one of the last shows ever to take place at the Irvine Meadows Amphitheater before its permanent closure at the end of this concert season, the Hair Nation Festival undoubtedly hit a high note and set a standard that's hard to beat. Eddie Trunk mentioned at the close of the Festival that there will be another one next year, the location of which is to be determined – absolutely something to look forward to, though Irvine Meadows will be missed. This celebration of Classic Hard Rock and Glam Metal made for a fantastic event all around, and I'm sure I'm not alone in saying my sights are already set on next year's show.
[All concert photos ©Metal Magnitude 2016. Please do not copy or use without permission.]