Album Review: Jim Crean – Insatiable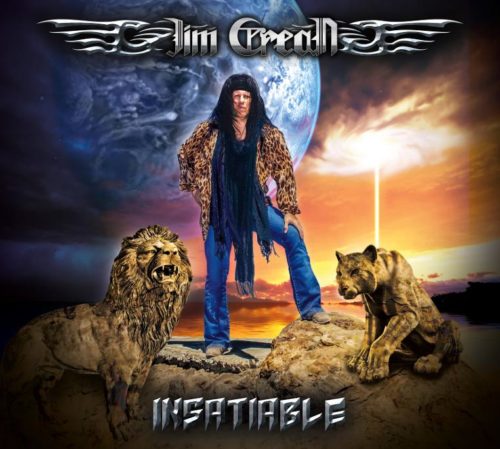 Not too long ago, I reviewed a Northeastern stop of the Appice Drum Wars series of shows, one which took place to promote the recent release from the Appice Brothers, Sinister. In light of this new album being the first officially recorded collaboration between Vinny and Carmine, much of the attention was on these drummer brothers. But now, it's time to focus entirely on the singer whose powerful vocals fronted that very Drum Wars show, not to mention his role as a featured vocalist on Sinister following a long history with the Appices, plus his own far-reaching solo career – Jim Crean. In concert, Crean handled Dio and Sabbath material alike with ease, and he manages to carry over that strong stage presence into the recording studio, as shown through his fourth solo full-length, Insatiable. Released on Rocker Records, a label founded by Carmine Appice, the 2016 record was produced by Jim Crean himself alongside Steve Major, whose guitar and bass skills are featured on just about every track.
A brief intro from one of metal's favorite comedians, Don Jamieson, gets listeners "ready to rock" just before Insatiable starts off strong with its title track, a Jim Crean original featuring Great White's Robby Lochner with an excellent classic hard rock sound that sets the tone for the whole record. I made mention earlier of Jim Crean's excellent live Dio performance, and that too shows up in record form, with a cover off Holy Diver making an appearance early on. In fact, this album is overall a cross between covers and originals, as Crean is joined by quite a few special guests, renowned names in the rock and metal worlds, most of whom perform on tracks that were originally their own. There's no shortage of the name Appice on the record either, with Vinny on drums for the majority of the record, and Carmine joining in for one song as well.
"Caught In The Middle" sees Steve Major stepping back from the bass to make way for this Dio song's original player – the now-late Jimmy Bain (R.I.P.). Frank DiMino (Angel) steps in as an additional vocalist, and of course, this song is nothing new to Vinny Appice, who also played on the original recording. "Touch" is the next instance of a Jim Crean original, and it continues what "Insatiable" started, with the addition of synths to amplify the 80's-reminiscent touch…no pun intended. "Turn It Around" seems to keep with the theme by upholding that effective sound, but "Follow Your Heart" shows a much heavier energy with the addition of former Dio/current Bang Tango guitarist Rowan Robertson, alongside soaring high notes that lead it more toward the old-school metal genre, while "Shut Your Mouth" has a contrasting modern rock feel. If "Miss Me" were a radio single, it'd likely be labeled as a power ballad, with its poignant midtempo melodic ways – and this time, Colleen Mastrocovo (Hair Nation) steps up behind the kit.
The covers side of Insatiable certainly doesn't end with a single Dio song. Crean put his personal spin on "Over The Edge" while still including the track's original singer, L.A. Guns' very own Phil Lewis, who has a more subtle presence in this version, featured only in the background vocals, but impactful nonetheless. "Can't Find My Way", the collaboration between Jim Crean and Mike Tramp (ex-White Lion, Freak of Nature) that follows does divide the main role a little more than the previous cover, as the two skillfully share the lead vocals of this Freak of Nature track, taking turns with each verse. Carmine Appice makes an audible appearance for the ballad, as does his former Blue Murder bandmate, Tony Franklin. "The Whole World Is Gonna Know" takes a 1993 Mr. Big track and stays true to the original right down to the background harmonies, provided in this version by Phil Naro. Last but not least, Jim Crean looks to some late 70's Kiss, placing the Paul Stanley-penned "Magic Touch" in the closing slot of the album while shedding any dance-oriented elements of the original, making for a straightforward rock track.
A proper nod to classics, a streak of originality, and an array of special guests all combine to form Jim Crean's Insatiable. This is a great record from a talented musician who shows his versatility as both a singer and songwriter, paying well-executed tributes while maintaining individuality – well worth the listen.
Rating: 5/5
Keep up with the latest on Jim Crean in his current band Hair Nation, plus any upcoming activity with the Appices via: http://www.jimcrean.net and https://www.facebook.com/Jim.Crean.9/.