UFO and Saxon – US Tour Announced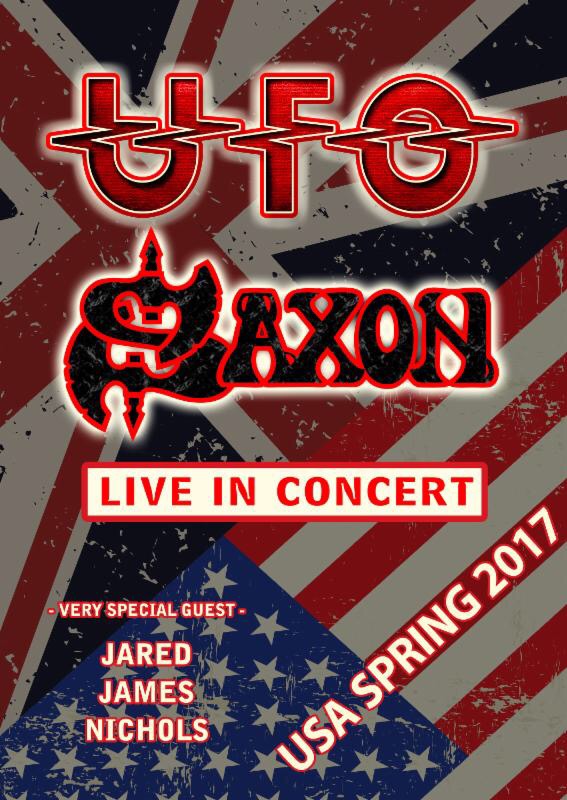 British Rock Legends UFO are teaming up with British Heavy Metallers Saxon for a special U.S. tour in Spring 2017.
UFO is coming off a sold-out 2016 tour as they head back to the U.S., with work on their 22nd studio album in progress and on the way. The band's long-standing lineup consists of Phil Mogg (Vocals), Paul Raymond (Keyboards/Guitar), Andy Parker (Drums), Vinnie Moore (Guitar) and Rob De Luca (Bass).
On the upcoming tour, Phil Mogg states, "We are polishing the guitars, cleaning up the drums, I have a new front tooth, and our crew have bought themselves fresh mascara, some new tunes, and an airline ticket to the USA, to be joining our old pals Saxon on what will be a celebrational tour of all our favorite places. Look forward to seeing you there! Kisses, UFO."
Saxon recently announced a live double album (set to be released in North America on October 28th), following the release of their UDR Music studio album Battering Ram earlier this year. Biff Byford (Vocals), Paul Quinn (Guitar), Nigel Glockler (Drums), Doug Scarrett (Guitar) and Tim "Nibbs" Carter (Bass) will head out on the road once again after several successful tours, including U.S. headline show and dates with Judas Priest, in support of the albums.
Biff Byford adds, "It's great to be back on the road with UFO. The last time we toured together was in the 80's so it should be fun and a unique package for the fans. See you in March. Keep the faith."
Rock singer-songwriter/guitarist James Jared Nichols will also be a special guest on the tour, for all shows.
Spring 2017 tour dates are as follows:
March 9 – Houston, TX – Scout Bar
March 10 – Dallas, TX – Gas Monkey Live
March 11 – San Antonio, TX – Alamo City Music Hall
March 14 – San Diego, CA – House of Blues
March 15 – San Francisco, CA – The Independent
March 16 – Los Angeles, CA – Belasco
March 18 – Anaheim, CA – The Grove
March 19 – Las Vegas, NV – House of Blues
March 21 – Denver, CO – Summit Concert Hall
March 24 – Sioux City, IA – Anthem at Hard Rock Casino
March 26 – St. Charles, IL – Arcada Theater
March 28 – Cleveland, OH – House of Blues
March 29 – New York, NY – BB Kings
March 30 – New York, NY – BB Kings
April 1 – Jim Thorpe, PA – Penn's Peak
April 2 – Allston, MA – Brighton Music Hall
More information on each band can be found at their official websites:
http://www.ufo-music.info
http://www.saxon747.com
https://www.facebook.com/Jaredjamesnichols/