Ronnie James Dio Hologram Debuts at Wacken Open Air Music Festival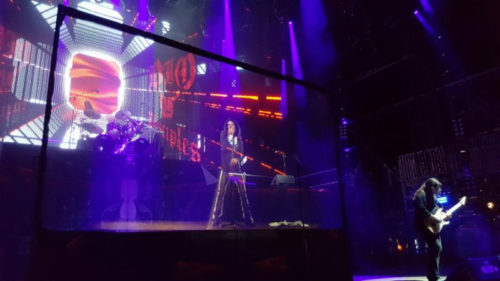 A great surprise awaited over 75,000 fans in attendance at the Wacken Open Air heavy metal festival in Germany last weekend as the Dio Disciples, consisting of the late Ronnie James Dio's bandmates and friends, took to the stage to close out the show. At the end of their set, the Dio Disciples were joined onstage by a special and rather unique guest – a hologram of Ronnie James Dio himself. Eyellusion, a hologram entertainment company focused on the live music market, created the hologram and produced the groundbreaking performance.
The world's first rock hologram, Ronnie James Dio's "performance" at Wacken Open Air is only the beginning for this production, as plans for future shows starting in 2017 are already in the works. The late Ronnie James Dio is well-loved among the Rock and Metal community, and the new hologram production, featuring the singer's actual recorded live vocals, aims to keep his legacy alive.
"When I first experienced the full production of Ronnie performing with his band as a hologram, I couldn't believe my eyes and ears," said Wendy Dio, who manages Dio Disciples and is also a member of the Eyellusion team, supporting industry relations. "With Eyellusion, we have been able to get Ronnie back up on stage where he belongs, ensuring that his music and memory live on. I want Ronnie's fans around the world to share this experience."
"We know how much the fans miss Ronnie and the special and unequaled element that he brought to his live performances," said Craig Goldy, lead guitarist for Dio Disciples. "Being able to recreate that same kind of magic for his fans at Wacken was incredible. For so many years Ronnie always invested big in his live shows as his way to give back to the fans, and that is exactly what we aimed to do with this latest performance. We can't wait to bring this experience to even more of his fans and perhaps even a newer generation when we bring this incredible live experience on the road next year."
"At first I did not know what to think or to expect. But after I got over the initial surprise, it felt like Ronnie was still with us. It was wonderful, sad and emotional," stated David James of California, a fan present for the performance at Wacken Open Air.
"I have watched quite a few hologram clips online and nothing can compare to the performance here tonight at Wacken – this was the most realistic of all. Amazing! Ronnie James Dio and metal will live forever," added Anna Lorenz, a 25-year-old fan from Germany, also in attendance.
"Eyellusion is creating the best hologram content and live music productions for a completely new concert experience," said Jeff Pezzuti, CEO of Eyellusion. "We're taking every step to capture the excitement and energy that comes from seeing your favorite band perform live. That means when the lights go down in the venue, the amps are loud, the band sounds great and the pyro is blinding. We are creating an entirely new way for fans to experience their favorite music."
"The economics of making music are changing, with tours being more important than ever," said Wendy Dio. "For artists who have been blessed with legions of fans around the world, the question is how to continue meeting the demand for your music. At the same time, newer acts are thinking about how to build a following and reach more people. Today, all artists need to find new, modern ways to connect with fans and Eyellusion is supporting those efforts."
Information on Eyellusion can be found at www.eyellusionlive.com and @eyellusionlive on Instagram and Twitter.
Footage of a portion of the Dio Disciples set at Wacken may be viewed here: http://concert.arte.tv/de/dio-disciples-ft-special-guest-wacken-open-air-2016