Rock Carnival Adds Headliners To Lineup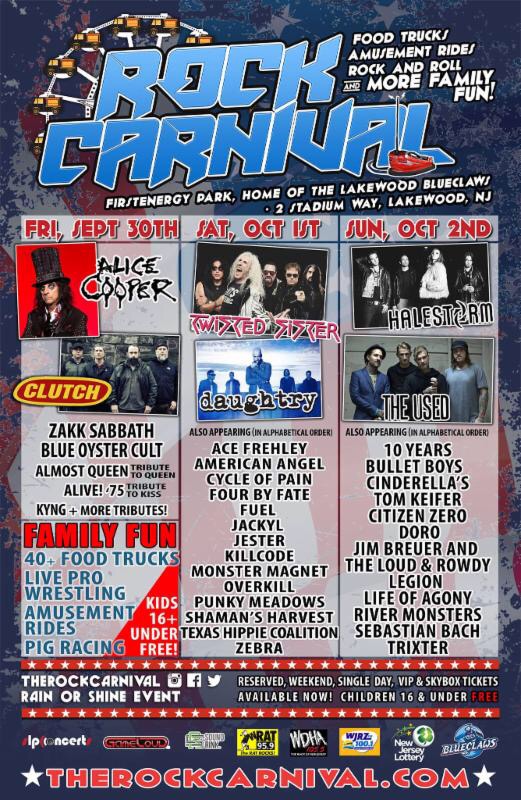 The Second Annual Rock Carnival, taking place on September 30, October 1 and October 2 at its new location in Lakewood, NJ at FirstEnergy Park, has announced the addition of two headliners to round out the lineup for the event known as The Northeast's Only Classic Carnival + Rock n' Roll Festival Experience.
While previous announcements regarding the festival revealed many of the weekend's performers, only a small portion of the Sunday lineup had been announced to date, including such acts as Doro, Cinderella's Tom Keifer, and Sebastian Bach, with some of the remaining guests left blank to be revealed at a later date. While several updates have been made to the lineup since its original release, now the headliners have been officially announced for Sunday, the third day of the Rock Carnival, and they are: Halestorm and The Used.
"ROCK CARNIVAL is very excited to finally announce Halestorm, The Used and the others who will help round out this year's line-up," states Rock Carnival producer John D'Esposito. "The festival outlined a plan that would deliver famous classic rock Friday, strong family friendly rock packaging Saturday and to close Sunday with active radio rock headliner. We put a strong emphasis on stacking the line up with New Jersey and immediate area acts who have had a long tradition of playing the infamous Jersey rock scene over years. Horns in the air, let's get ready to rock!"
The Second Annual Rock Carnival also features the Friday headliner of the shock rock king, Alice Cooper, while Saturday marks the final area appearance of Twisted Sister in their official Tri-State farewell performance.
The Rock Carnival has reached a total of 50 Food Trucks and counting, and will also feature local art/entertainment, awareness and clothing vendors. Music will take place on multiple stages, including two main festival stages, side by side, on the field. Fans will have general admission access to the stadium field. The musical portion of the event will once again feature the Birch Hill stage, a very popular performance area, with the addition of another performance area showcasing developing artists.
The full lineup of the Rock Carnival is listed in the picture above, and can also be found on The Rock Carnival's official website.
Single Day GA, Weekend GA and Reserved Seat Weekend Packages are On Sale Now
Get VIP Packages and Skybox Meet & Greets Here (powered by SoundRink)
Further information on The Rock Carnival may be found at: http://therockcarnival.com.