Obituary Premiere New Live Track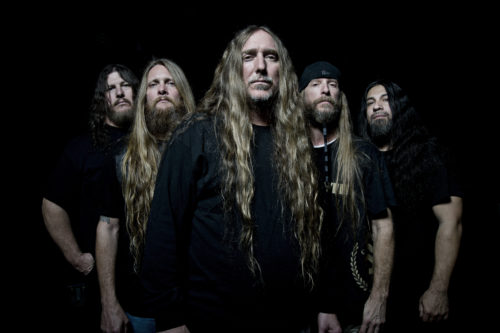 Death Metal band Obituary has shared a new song off their upcoming album Ten Thousand Ways To Die, "Visions in My Head", via Guitar World. This new live version of the track from the band's 2015 release Inked In Blood was recorded at Baltimore Soundstage during the Inked In Blood world tour. The track can be heard here on Guitar World, or streamed via the Relapse Records SoundCloud.
Ten Thousand Ways To Die is a special two-song single of new studio tracks, alongside an unreleased set of twelve live classics, set to be released on Relapse Records on October 21st – all leading up to the release of a new studio album in Spring 2017. The album can be pre-ordered in physical or digital form here. Other recent tracks released from Ten Thousand Ways To Die are "Intoxicated"and "Loathe".
The release date of Ten Thousand Ways To Die, October 21st, is also the same date that Obituary will head out on a Fall European Tour, "The Battle of the Bays", with Exodus, Prong, and King Parrot. Tour dates are as follows:
Oct 21 – Hannover, DE – Capitol
Oct 22 – Lille, FR – Aeronef
Oct 23 – Rennes, FR – L'Etage
Oct 24 – Paris, FR – Elysée Montmartre
Oct 25 – London, UK – Electric Ballroom
Oct 27 – Glasgow, UK – Garage
Oct 28 – Manchester, UK – Academy 2
Oct 29 – Birmingham, UK – 02 Academy 2
Oct 30 – Southampton, UK – Engine Rooms
Nov 01 – Antwerp, BE – Trix
Nov 02 – Tilburg, NL – O13
Nov 03 – Leuuwarden, NL – Neushoom
Nov 04 – Cologne, DE – Live Music Hall
Nov 05 – Aarhus, DK – Voxhall
Nov 06 – Copenhagen, DK – Pumpehuset
Nov 08 – Dortmund, DE – FZW
Nov 09 – Berlin, DE – Huxley's
Nov 10 – Leipzig, DE – Taubchenthal
Nov 11 – Warsaw, PL – Progresja
Nov 12 – Katowice, PL – Mega Club
Nov 13 – Ostrava, CZ – Garaz
Nov 15 – Bucharest, RO – Arlene Romane
Nov 16 – Budapest, HU – Durer Kert
Nov 17 – Zagreb, HR – Tvornica Club
Nov 18 – Vienna, AT – Arena
Nov 19 – Bologna, IT – Zona Roveri
Nov 20 – Zurich, CH – Komplex
Further info can be found at the Official Website of Obituary