Hair Nation Festival Headed to SoCal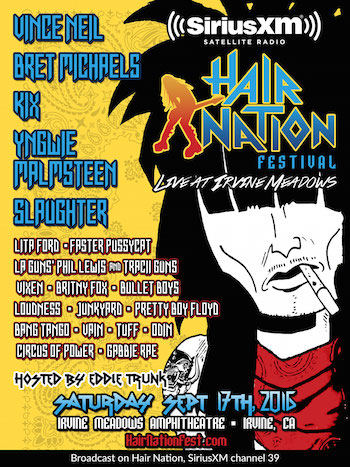 On September 17th, 2016, some of the best rockers of the Sunset Strip will gather for one night at the Irvine Meadows Amphitheatre in Irvine, CA for SiriusXM's Hair Nation Festival. The event will feature a non-stop rock 'n' roll experience held on two stages, including a rotating main stage with back-to-back performances, VIP Meet and Greets, a vendor village, and more.
The current lineup of the festival is: Vince Neil, Bret Michaels, Kix, Yngwie Malmsteen, Slaughter, Lita Ford, Faster Pussycat, LA Guns' Phil Lewis and Tracii Guns, Vixen, Britny Fox, BulletBoys, Loudness, Junkyard, Pretty Boy Floyd, Bang Tango, Vain, Tuff, Odin, Circus of Power, and Gabbie Rae.
The festival will be hosted by Eddie Trunk, who says: "I'm truly honored to host the first ever Hair Nation show. As a lifelong fan, friend and supporter of so many of these bands on radio and TV it's great to see them have their own event to celebrate their decades of great music." Headliner Vince Neil says, "I can't wait to perform back in Southern California where it all started for me. This is a big kick ass event and I'm gonna pull out all the stops on this one. What a great lineup, in a great venue…see you in September. Be there!"
This jam-packed festival lineup will also be joined by two unsigned bands, competing for chances to open the main stage and second stage via SiriusXM's Hair Nation Festival Battle of the Bands, taking place on August 17th right on the Sunset Strip at the Whisky A Go-Go. Battle for Hair Nation Festival is also hosted by Eddie Trunk, and features the bands Wikkid Starr, The Hard Way, The Aviators, Devil's Only, Salem's Lott, Evolution Eden, Velicious, and Electric Hound. The winners will be chosen by Eddie Trunk and other celebrity rock judges. Tickets and further information for the Battle of the Bands can be found at the Whisky A Go-Go Website.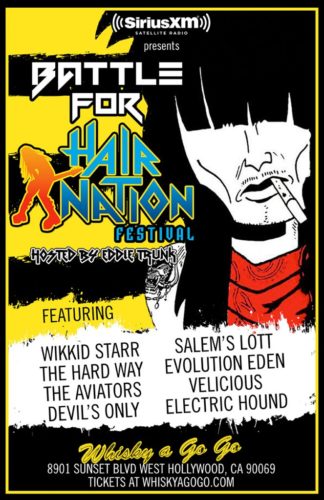 If you can't make it out to Orange County for this, the first-ever Hair Nation event, and one of the last events to be held at the soon to be closed historic Amphitheatre, then you can tune in to SiriusXM's Hair Nation channel on the weekend of September 24th to hear the broadcast of performances and backstage interviews from the festival.
Limited tickets are still available (though VIP experiences are sold out) at www.hairnationfest.com. Don't hesitate to buy yours soon and Get It While It's Hot! The festival is sure to be Larger Than Life, while these rockers take a ride on the Wild Side and show No Mercy. As your favorite bands play the hits you love, you may be tempted to say Don't Change That Song, but it'll be Nothin' But A Good Time when you're Up All Night on this Crazy Night. Glam Metal, Hair Metal, 80's Hard Rock – whichever name you give it, it's a genre that's been close to the hearts of generations of fans worldwide, and the Hair Nation Festival is proof that this music is still going strong and ready to rock!