Amorphis Releases Tour Announcement Trailer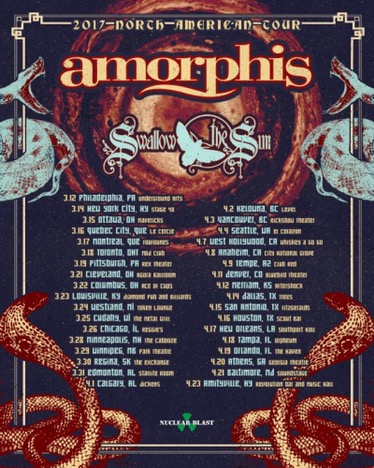 Finnish Death Metallers Amorphis have some "breaking news" to announce – their first return to trek across North America in almost ten years. They've had a few US shows here and there, yes, but nothing quite like a full-on cross-country tour.
When they hit the East Coast at first, they'll be alongside Overkill, Nile and Swallow The Sun. But after that, Overkill and Nile will break off then Amorphis and Swallow The Sun will continue the rest of the way themselves. The most recent release from Amorphis was in 2015, Under The Red Cloud, and Swallow The Sun just had a triple – that's right, not a single, not a double, but a triple – album release in 2016 with Songs From The North I, II & III.
Amorphis has released a short trailer showing all their upcoming tour dates as well as a few glimpses at the band behind-the-scenes. It's available to watch on the band's official Facebook page here. You can also keep up with the latest on the band on their official website: http://www.amorphis.net.