Warbringer On North American Tour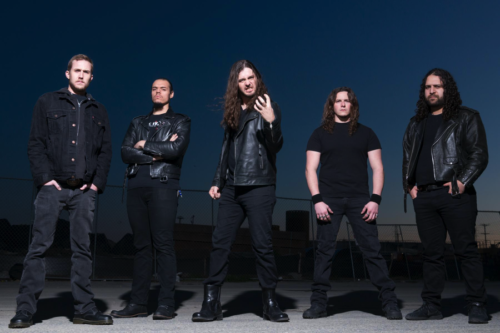 Warbringer recently kicked off a North American tour on the West Coast with a California date, continuing their ongoing touring cycle ever since the Woe To The Vanquished March 31st Napalm Records release. As direct support to Destruction alongside Jungle Rot, they've got a few more weeks to go, wrapping it up on June 11th in their home base, Los Angeles.
May 26 – Denver, CO – Marquis Theatre
May 27 – Kansas City, MO – Aftershock
May 28 – Chicago, IL – Reggie's
May 29 – Detroit, MI – Harpo's
May 30 – Toronto, ON – Mod Club
May 31 – Montreal, QC – Astral
June 1 – New York, NY – Gramercy Theatre
June 2- Montage Music Hall – Rochester, NY
June 3 – Indianapolis, IN – Emerson Theater
June 4 – Atlanta, GA – The Masquerade
June 5 – Orlando, FL – Haven Lounge
June 7 – Austin, TX – Grizzly Hall
June 8 – Dallas, TX – Gas Monkey Bar & Grill
June 9 – Albuquerque, NM – Launchpad
June 10 – Phoenix, AZ – Joe's Grotto
June 11 – Los Angeles, CA – Regent Theater
Frontman John Kevill checked in with fans just before the tour began: "Hey everyone, after returning home from a European tour with Havok, Exmortus, and Gorod, we are making preparations to depart on a USA tour with Destruction, Jungle Rot, Hellbender and Demons Within. We will be trekking around North America for three weeks with this lineup, and leveling everywhere on the way! This is a super aggressive bill that promises to be one of the most intense metal shows of the year. This marks our third outing supporting our new record, Woe to the Vanquished, which has had a great response live.  Looking forward to the shows and to seeing people mosh, stage dive, and completely go off! See everybody at the show, and remain violent."
There are plenty more tour dates lined up for the future beyond this tour, and you can keep up with Warbringer here: https://www.facebook.com/Warbringermusic.