The Aftershow Debut With Lemmy Tribute Track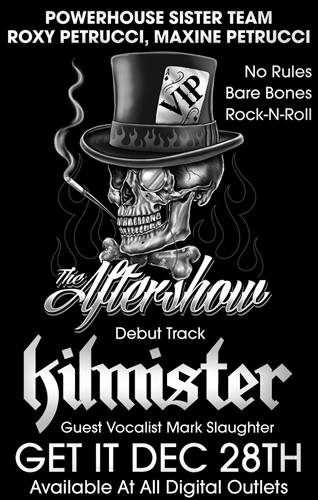 The Aftershow has arrived, and they've brought along some "No Rules, Bare Bones Rock-n-Roll". Founded by the Powerhouse Sister team of Roxy Petrucci (Vixen, Madam X) on drums and Maxine Petrucci (Madam X) on guitar, and featuring guests Mark Slaughter (Slaughter) on vocals and Michael Pisculli on bass, this new collaboration is debuting with a track paying tribute to the late Lemmy Kilmister, the iconic frontman of Motörhead. "Kilmister" has been released today, December 28th, which is also the one-year anniversary of Lemmy's passing.
This track, released through Afterlife Music Publishing, is just the start for The Aftershow, as future releases are to be announced, with more line-ups and collaborations possible as well. A teaser of "Kilmister" was released last week, and a clip will be aired on Eddie Trunk's Trunk Nation show on SiriusXM's Volume channel during a Lemmy tribute show today. "Kilmister" is now available for download on all digital outlets, including iTunes here.