Sebastian Bach Book Tour Announced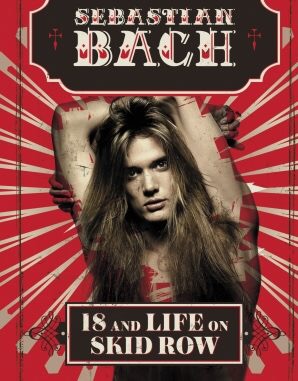 The long-awaited autobiography of Sebastian Bach, 18 and Life On Skid Row, has a release date set at last. Fans of the former Skid Row frontman have been keeping a waiting watchful eye out for this, as it was announced earlier this year that Bach had been working on the book, but several delays had pushed back an official release date. Now, 18 and Life on Skid Row will be out on December 6th via Dey Street Books, an imprint of HarperCollins Publishers. Bach will also embark on a book signing tour upon the autobiography's release. The tour starts in New York and ends in Las Vegas, and it is yet to be seen whether any further dates might be announced. Currently, the event dates are as follows:
Monday, December 5, 7:00PM – Book Revue – Huntington, NY
Tuesday, December 6, 7:30PM – Word Bookstore @ St. Vitus – Brooklyn, NY
Wednesday, December 7, 6:00PM – Bookends – Ridgewood, NJ
Thursday, December 8, 7:00PM – Barnes & Noble – Eatontown, NJ
Friday, December 9, 7:00PM – Anderson's Bookshop – La Grange, IL
Saturday, December 10, 7:00PM – Schuler's Books & Music – Lansing, MI
Sunday, December 11, 6:30PM – Left Bank Books – St. Louis, MO
Monday, December 12, 7:00PM – Changing Hands – Tempe, AZ
Saturday, December 17, 9:00PM – Hard Rock Hotel, Las Vegas, NV
18 and Life on Skid Row is available to pre-order here and on Amazon here (affiliate link).