Sabaton – "The Last Stand" Makes Billboard Debut + Track-By-Track Trailer Revealed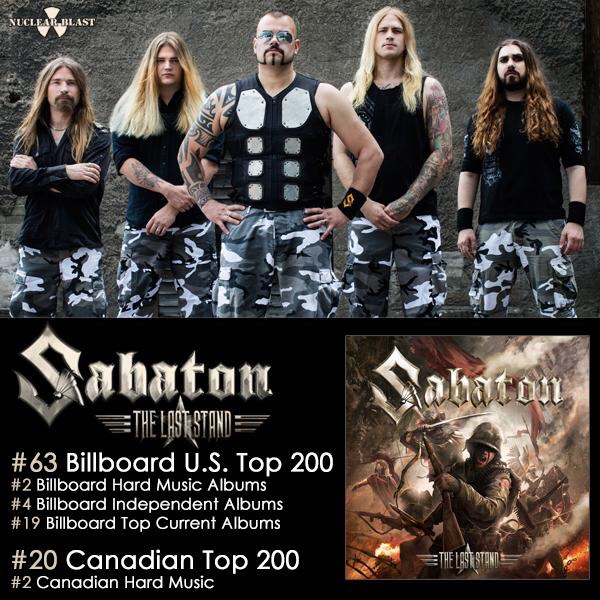 The Last Stand, Sabaton's latest album, was released through Nuclear Blast on August 19th, 2016. This Swedish Heavy Metal band has reached their highest-ever chart entries in the US and Canada with the album, debuting at #63 on the Billboard U.S. Top 200 album chart, #2 on the Billboard Hard Music chart, #2 on the Canadian Hard Music Chart, and #20 on the Canadian Top 200 album chart. The Last Stand also holds the #5 position on the Billboard Top Rock album chart, #4 on the Billboard Independent albums chart, and #19 on the Billboard Top Current Albums chart.
Worldwide first week chart positions for The Last Stand include:
#1 – Czech Republic
#1 – Finland
#1 – Sweden
#2 – Germany
#4 – Belgium
#11 – Netherlands
#11 – Norway
#15 – Hungary
#17 – UK
#29 – Australia
#92 – Ireland
You can order a copy of the album at the Nuclear Blast Online Shop or a digital download here.
A track-by-track trailer featuring the band discussing the background and stories behind the songs on The Last Stand has also been released, and can be found here.
Sabaton will soon head to the states, their new guitarist Tommy Johansson in tow, for the 2016 "Silence In The Snow" Fall tour alongside headliners Trivium and special guest Huntress. www.sabaton.net/tour has the full listing of tour dates.