Ride For Ronnie Motorcycle Rally Raises $40,000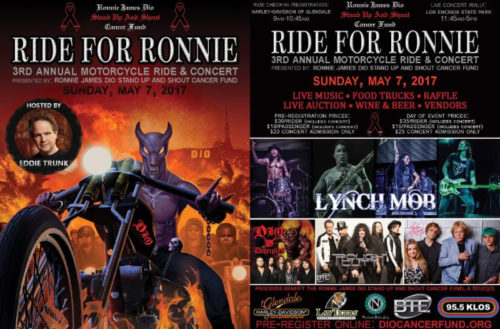 The Third Annual "Ride For Ronnie" took place a few weekends ago, on Sunday May 7th, in an effort to raise money for the Ronnie James Dio Stand Up and Shout Cancer Fund. Music fans, musicians, and other celebrity guests gathered to ride in the rally, which was accompanied throughout the day by several concerts and an all-star jam led by Steven Adler. Despite threats of rain, the originally announced lineup for the ride and shows alike all came through as planned (with some additional special guests), and the event succeeded in raising $40,000 for charity toward cancer research with over 200 bikers – though the rain did at last arrive at the close of Lynch Mob's set. Additional donations were brought in through a silent auction, raffle and live auction, which included a trenchcoat from Eddie Money and a Great White signed acoustic guitar. The late Randy Rhoads' brother and sister – Kelle Rhoads and Kathy Rhoads D'Argenzio – presented Wendy Dio with a donation in Randy's name. A donation was also presented by Wendy Dio and Dr. Sandy Kapoor (medical director of the Cancer Fund) on behalf of the Ronnie James Dio Cancer Fund to a Dr. David Wong at UCLA School of Dentistry to fund his original early cancer detection research project. During the concert, Rough Cutt were joined on stage by a variety of guests, including Lita Ford, Ronnie James Dio's cousin David "Rock" Feinstein, Brittany Denaro (Vixen), Patrick Stone (Budderside), Sean McNabb (Lynch Mob), Joe Retta, Bjorn Englen and Scott Warren of Dio Disciples, Ace Von Johnson (Faster Pussycat) and Kelle Rhoads, for a special performance of Hear 'N Aid's "Stars". KLOS and its radio personalities also came out to support, sponsor, and host the event, sharing a few hosting duties with Eddie Trunk.
For more information on the Ronnie James Dio Stand Up and Shout Cancer Fund, visit http://www.diocancerfund.org.