Quiet Riot Re-Recording Road Rage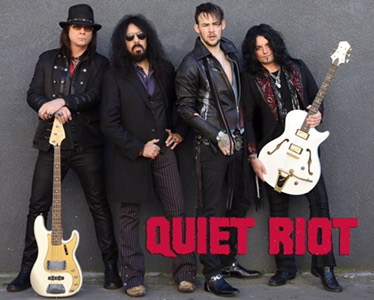 Don't you just hate it when you get done recording an album then all of a sudden find yourself with a brand-new singer? Well, that's what's happening with Quiet Riot, who completed an entire new album with lead vocalist Seann Nicols with plans for a spring release. But now, the band has made some changes leading to American Idol Finalist James Durbin joining together with drummer Frankie Banali, bassist Chuck Wright, and guitarist Alex Grossi to become the new frontman of Quiet Riot. As a result, all the tracks on Road Rage will not only be re-recorded with James Durbin on vocals, but completely re-written as well.
Here's what band leader Frankie Banali has to say about the decision: "After careful consideration, with the support of Frontiers and understanding the appeals from Quiet Riot fans to have our vocalist James Durbin represented on the new Quiet Riot release, we have made the decision to move forward and have James replace all the vocals on "Road Rage" with new lyrics and melodies for a summer 2017 release. Stay tuned!"
It sounds like both the band and the label felt this was the best choice to reflect the newest lineup change, and for Quiet Riot fans, the album should be worth the wait. In the meantime, there are plenty of opportunities to catch the band on the road, with US tour dates spanning the spring through the fall.
For more on Quiet Riot, including a full list of tour dates, visit the Official Website and Facebook Page.