Metal Allegiance Performing "Tribute to Our Fallen Heroes" in Anaheim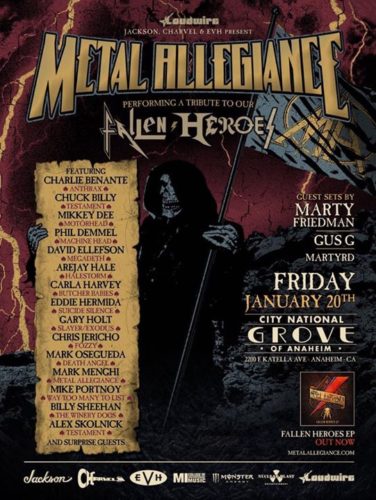 Metal Allegiance first debuted with a self-titled album in 2015, gathering a multitude of musicians in the rock and metal world for a dynamic record of original music and an all-star cover, all led by core members Mark Menghi, David Ellefson, Mike Portnoy, and Alex Skolnick. Next month, the band will take to the stage with a large lineup of guests for a special show paying tribute to legendary rock and metal musicians that have passed over the years. Friday, January 20th, 7pm at the City National Grove of Anaheim in Anaheim, California is the day, time and setting for this event known as "A Tribute To Our Fallen Heroes". Guests include members of Testament, Motörhead, Fozzy, Butcher Babies, Halestorm, and more, plus additional "surprise guests" that are set to appear. The show opener will consist of guest sets by Marty Friedman, Gus G. and the band Martyrd.
While it may be the first show of its kind the group has done, this event will not be the first time Metal Allegiance has gathered to pay their respects to some music legends – they went in studio earlier this year to record Fallen Heroes, a three-track EP put together to pay homage to Lemmy Kilmister, David Bowie, and Glenn Frey, covering one song by each artist. "Supergroup", "All-Star Band", whatever the moniker you give to Metal Allegiance may be, the group of heavy hitters are heroes themselves to many metal fans, and the tributes they dedicate to their own heroes are sure to make for a memorable night.
The event is presented by Loudwire – who is also holding a giveaway of a guitar signed by Metal Allegiance – and hosted by Jackson, Charvel, and EVH, among co-sponsors Monster Energy and Musicians Institute.
Tickets to the show may be purchased at the following link: http://www.axs.com/events/326770/metal-allegiance-tickets?skin=cngoa
Further information on Metal Allegiance can be found at the official website.