Late Night with Nicko McBrain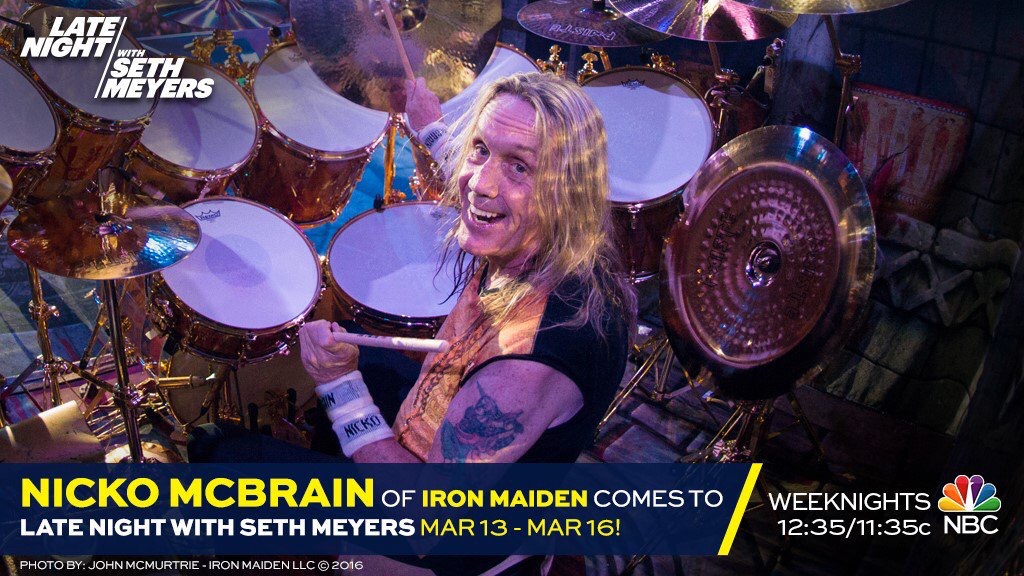 Sounds like a dream come true for Iron Maiden fans, but it's only partially true. Maiden drummer Nicko McBrain will indeed be on a late night show, but not one of his own. Late Night with Seth Meyers' The 8G Band often recruits guest performers from various genres of music to sit in with the house band, and Metal certainly hasn't been overlooked (for once). Dave Lombardo from Slayer, Danny Carey from Tool, and Brann Dailor from Mastodon are just a few of the names that have brought their sticks to the stage and drummed with The 8G house band, not to mention full guest performances from bands like Anthrax and Megadeth hitting the Late Night stage in recent times. 
Monday, March 13th through Thursday, March 16th will be the time Nicko McBrain spends a full four days behind the kit, starting at 12:35 AM Eastern time on NBC.
Iron Maiden is preparing to head out for the next stage of their The Book of Souls world tour. Europe will see them first in April and May, then the US gets them for the summer, in June and July. The band has also launched an initiative to prevent counterfeit, resold and overpriced tickets on the upcoming UK arena tour. This is helping to provide fans with the opportunity to get to see their favorite band at a fair and true price, and avoiding any scams. You can read all the logistics and details on the Iron Maiden official website.
The full listing of tour dates and tickets can be found here.