Interview: Dave DiSarro of Cardiac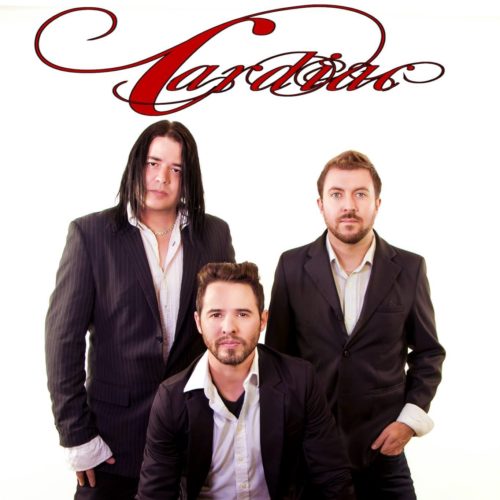 Cardiac is a Hard Rock band on the rise, debuting in 2011 and touring ever since, while releasing a self-titled EP and forming a non-profit music education program along the way. They've got some shows coming up in support of Enuff Z'Nuff, and though Cardiac didn't play that night, frontman Dave DiSarro (front and center in the above photo) was at the Ace Frehley/Enuff Z'Nuff show at the Canyon Club on January 29th. Chip introduced us so I could ask Dave some questions and find out what Cardiac is all about.
---
Here with Dave from Cardiac at the Canyon Club, I just got finished talking with Chip Z'Nuff and he told me that you guys are going out on tour with him pretty soon, so let's start by talking about that, how'd that connection happen?
We've been friends with Chippy for a while and we were out on tour, me and my drummer were out on the fall tour with them, just working with them and helping them out. We showed them our music and Chip took us under his wing, talked to the booking agent, and we're going out to Europe and doing all the European dates with them now.
So I'd like to get a little background on your band, Cardiac, about the origins of the band, where you're from, and what style of music you're all about.
Basically, it was a concept I came up with and just started writing different stuff…I came from punk and metal genres and I wanted to do something a little more experimental, so I started writing – mostly it was songs I couldn't put into that kind of style of music, and I was listening to a lot of Brian Wilson at the time, Meatloaf, a lot of Queen, and I wanted to do something to kind of test my boundaries musically and not write pop-punk, punk, or metal. I was starting to learn piano at the same time, so I started kind of just writing piano riffs and stuff like that, and I was taking some of my poetry and putting it behind it, and I came up with the idea to write it up as a story, so now it's coming out eventually as a 20-song rock opera that we're calling "Destroy Rebuild".
Rock opera! Very cool. So the concept of rock opera, what led you to that? Sounds like an intricate sort of challenge to take on.
The songs were all kind of related to each other and it was turning into a storyline form, so I decided I wanted to fill in the gaps and for some reason, I don't why, I picked 20, I've always been very balanced (laughs). And I wanted to picture it as a 10-on-10 double disc album, and that's how I settled on the number 20. It's following a character kind of like down to defeat and then back up again on a rise, so it's ten songs going to the point of no return basically, struggling with drugs, suicide, different things like that with depression, then on the upside of the CD is basically finding your love for life and carrying on again. We've been able to use our music a lot, we've worked with To Write Love On Her Arms, we've worked with MusiCares, Music Saves Lives, worked a lot with Wounded Warriors too. Our first tour actually, we turned six weeks into eight months, and a lot of that was working with benefit shows because, basically nobody knew us, and what we were doing was we were reaching out and we got offered a lot of gigs that were to help out and speak at schools, we worked at a couple homeless shelters too. And we saw that our music was getting in to different crowds that normally we wouldn't be playing, like sometimes there wasn't a stage there but it felt good to do it, there were people listening to our music, so we started off with that, and then we started getting into bigger clubs. Actually, the last tour we did was the biggest one we've done so far, we were out with The Bangles last summer, and that was an amazing gig to get, it was sold out shows across the East Coast. That was something that really kind of led us to the next thing and now Chip is taking us out and you know, with his help too he's been pushing us, that's how we're doing this interview right now. It's been amazing to have legendary people that made the hits in the past and are making the hits right now, going out and working, I'm a hard worker and when they've been able to see that in us and give us this offering, it's been incredible.
Sounds like a lot of really great things going on with your band. Now, tell me about this record you just handed me here.
This record is actually the first eight songs that I wrote for the project, they're not in storyline form, but they're part of the rock opera. Some of them might be coming out as I write more stuff that fits better into those themes, but this is the first eight, recorded it with some of the best guys I could find in Hollywood at the time. And we just went into the studio with Carmen Grillo from Tower of Power, I had Steve Slate from Slate Audio mix it, and Reuben Cohen from Lurssen Mastering – done everything from Across the Universe to, he's working on the Beauty and the Beast soundtrack right now – so we had some really great people on our team and we've kept them really close to, the same guys we're going to work with on everything. Gus Crinz is the guy that worked on the three latest singles we've got that have come out, we released "Silver Lining" back on The Bangles tour, we had a harder song called "Here I Fall" that we just put out, we had a song called "Half Mast" that I was actually trying to write for Fox Sports and get it placed and we just brought it into Cardiac, it doesn't have anything to do with the storyline, but it's just a fun sports song, like a good get-up-and-go anthem. And we have a new single coming out on the way, before we go to Europe, called "I Feel Alive". We had a different version on this album that is one of the songs I wrote while we were in the studio, after we had already tracked drums and everything, and we decided to just do the piano cut with the violins behind it with a string quartet on there, but we're doing a full rock version with how it's adapted into our lives, where it's a five-minute…basically, guitar jerk-off at the end. (laughs) It's amazing. It's a big solo at the end of it and it's how we close our shows, so we wanted to put that on to the next EP that's coming out.
I mean, that's what guitar solos are all about most of the time anyway. (laughs) No, I'm kidding, it's all good.
Eventually, honestly, once we start kicking ass on some shows and people start knowing our music and hopefully that single gets pushed, it would be one of those fun ones to bring like, a fan up on stage and throw a guitar on him, you know obviously we'll stay up there, but it'll be a fun one to pick somebody out of the crowd and bring 'em up and just let 'em jam along with us at the end of the set and really get people going.
That's great, and you have a great enthusiasm about your music, I like hearing about this. So now, of course, we've got some great background noise for this interview here, Ace Frehley's out on stage right now playing, you an Ace fan?
Oh, Ace has been so good to us too. Richie Scarlet on guitar, I love watching him every night, one of the most energetic guys I've seen on stage. And I've been out with these guys, these guys are fun as fuck, Enuff Z'Nuff has been treating me awesome, they're fun as hell. [Tony Fennell, who came backstage during this interview chimed in here just to say "Apart from me".] I don't know how they perform so good, because we're out every night, we're having fun, these guys never shut down without having a good time afterwards, we usually turn in to a karaoke bar at the end or we end up somewhere having fun afterwards. It's been one of the most fun tours I've ever been on. But Ace and the guys have been great, Chris Wyse on bass, really great guy, and Scot Coogan just came up with them on vocals at the end of their set, and he's a kickass guy too. Everybody on this tour is just really fuckin' awesome.
Nice. Lots of fun stuff, and I'm really looking forward to seeing the future of Cardiac as well, so thank you for taking the time to sit down and talk with me.
Thank you!
---
Visit Cardiac's official Facebook page for more on the band.