Dokken adds a U.S. Date to the Upcoming Reunion Tour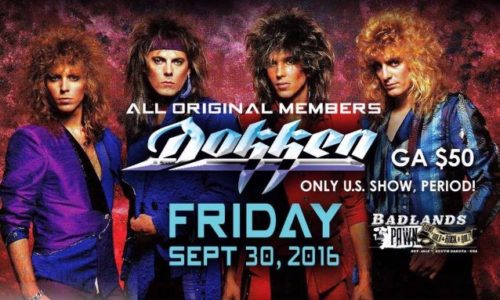 Until now, it seemed that only audiences in Japan would have the opportunity to see a full reunion of the classic lineup of Dokken, when the "Unleashed In The East" six-show Japanese tour was recently announced. Now, the addition of a single U.S. date – taking place at Badlands Pawn in Sioux Falls, South Dakota on September 30th – gives American audiences that same opportunity. This South Dakota date is being called a "warm-up show", kicking off the brief but long-awaited reunion of the classic 1980's-era Dokken lineup, consisting of Don Dokken, George Lynch, Jeff Pilson, and "Wild" Mick Brown. Each band member also plans to hold a clinic for students at the Brennan Rock & Roll Academy during their time in Sioux Falls. The supporting act for this Badlands show is Gabbie Rae, a rising rock singer who has played the M3 Rock Festival, sharing the stage with many prominent names in rock and metal, and is also a part of the lineup for SiriusXM's Hair Nation Festival on September 17th.
In a recent interview with The Classic Metal Show, Don Dokken suggested the possibility of a live DVD of the U.S. show being produced by the end of the year. Jeff Pilson confirmed via Twitter the plan to record this show, and also mentioned progress on a new song. Is new material from the classic lineup what lies ahead for Dokken, perhaps even beyond the tour? Only time will tell, and in the meantime, Dokken fans can head to the Badlands Pawn box office or http://www.badlandsboxoffice.com , and/or check out their other tour dates for "Unleashed In The East":
Oct 5 – Osaka, Japan – Nama Hatch
Oct 6 – Fukuoka, Japan – Fukuoka Civic Hall
Oct 8 – Tokyo, Japan – Loud Park Festival
Oct 10 – Hiroshima, Japan – Bluelive Hiroshima
Oct 11 – Nagoya, Japan – Zepp Nagoya
Oct 12 – Tokyo, Japan – Zepp Divercity Tokyo
Tickets and VIP Experiences will be on sale August 27th, with the exception of the Loud Park Festival in Tokyo, tickets for which are already on sale via the following link: http://www.loudpark.com/16/. Loud Park is one of the largest annual heavy metal festivals in Japan, and other bands on the bill for this year include Whitesnake, Scorpions, Sixx:AM, Danger Danger, Armored Saint, The Dead Daisies, Queensryche, and many more.
Further information, including some upcoming tour dates for the current lineup of Dokken (with Jon Levin and Chris McCarvill on guitar and bass alongside Don Dokken and Mick Brown), can be found at http://www.dokken.net.