Concert Review: L.A. Guns at M15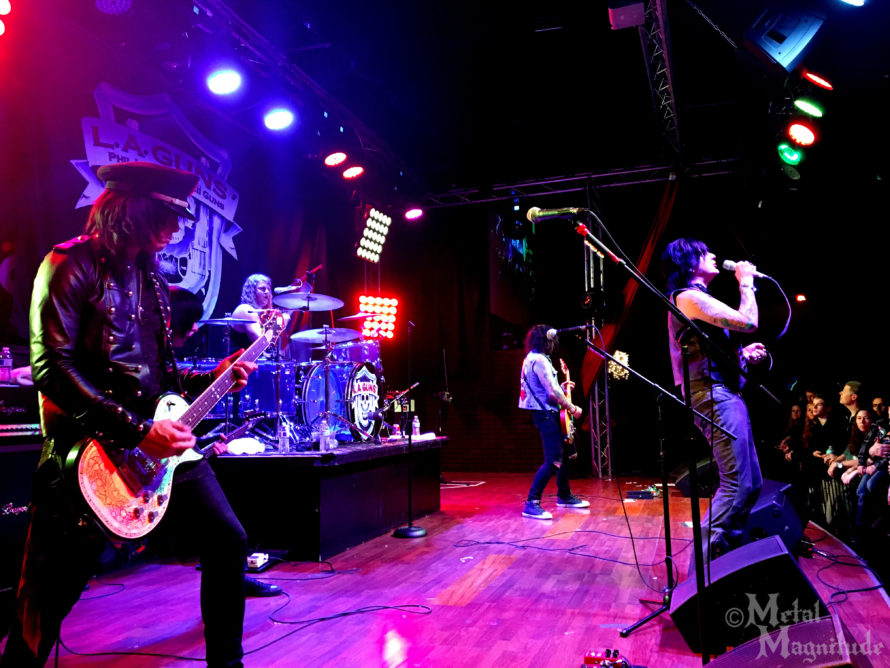 The M15 in Corona, CA set the stage for one of the earliest 2017 stops along the L.A. Guns' Phil Lewis and Tracii Guns Reloaded Reunion Tour – makes for a mouthful, but the long title is just to clear up which lineup audiences will be getting, considering there have been multiple versions of the band in the past. No longer should any questions remain as to who's who in L.A. Guns. From stage to studio and everywhere in between, the current lineup of Phil Lewis (vocals), Tracii Guns (guitar), Michael Grant (guitar), Johnny Martin (bass), and Shane Fitzgibbon (drums) is locked and loaded (or should I say "cocked and loaded"?) as the latest and official L.A. Guns.
The buzz of a crowd excited for the reunion of a lifetime could be felt through the mountainous Corona air on January 28th…or maybe that buzz really just had something to do with the M15's bar. Either way, this band knows how to make a thoroughly dramatic entrance. They start out by stepping onto a darkly lit stage accompanied by Ozzy Osbourne's "Diary of a Madman", building up a tension which finally explodes into the first notes of Hollywood Vampires opener "Over The Edge". The song has something of a fresh energy to it, as you hear Tracii putting a new twist on some rhythms while joining with Michael for dual guitar lines that get even better by the moment, Phil perfectly blending melody with pure aggression from a vigorous voice, and a jam-like ending where Johnny and Shane add some interesting lines and fills of their own. This is the ideal opening song for a lineup that's still somewhat new, as it showcases all the band members' unique touches right from the start.
"Electric Gypsy" was next on the setlist, a song that embodies the spirit of rock'n'roll on the road, followed by "Killing Machine". This might be considered among the heaviest of the L.A. Guns discography/rep, and it's a great track to throw an almost thrashy metal edge into the mix. It's not only the fast-paced music that gives it such a tone, but the hard-hitting vocals delivered by Phil ensure an impact. "One More Reason" gives Johnny a chance to step forward and take it away with the unmistakable opening riff, while "Bitch Is Back", "Sex Action" and "No Mercy" – three songs that seem to represent so perfectly the attitude of L.A. Guns – all pack a punch through a new spin on these debut album tracks.
"Kiss My Love Goodbye" drew a great reaction from the audience, who were then brought from this grooving sort of blues into a heavy rocker powerful enough to wake the dead – "Don't Look At Me That Way" was perhaps met with the most excitement from Phil himself, who exclaimed his love for the song while Tracii picked with precision the melodic opening notes. Next up was "Malaria", the song best known for its mesmerizing theremin solo (fun fact: Tracii just happens to have Jimmy Page's original theremin) which also featured some standout drum work from Shane and strong vocal harmonies across the board.
The Guns left the stage for a few at this time, but no matter how great of a show they just put on, it clearly wasn't enough for the crowd – and who wouldn't be thrilled to see "The Fabulous L.A. Guns" return for an encore with "Never Enough"? With a packed floor and even tables of people dancing and cheering with hands and horns in the air, this song made for an all-out party, but the night still wasn't over yet. It seems like "The Ballad of Jayne" never fails to be met with passionate (and sometimes off-key – I can say that because I'm guilty of it myself) singing along from an audience, but just in case the ballad happened to relax anyone a bit too much, the ripping riffs and roaring screams of "Rip and Tear" tore through those daydreams of Jayne to make sure everyone was left fully energized. The spotlight was all on Michael this time, taking his place at the front of the stage and shredding away to the front row's delight. The ending of "Rip and Tear" seemed like a culmination of the skills and talent overflowing from the stage all night – even while the song grew faster and faster, not one musician could've missed a beat as they're all perfectly in sync, bringing the show to a grand impressive close.
Much excitement surrounds L.A. Guns lately, both radiating from the band itself and the crowds who come to see them. A new album is set to be released via Frontiers Music Srl later this year and the release date is projected to be around early summer. The Missing Peace has already been revealed as the title, and indeed, some "peace" is just what might have been missing between a certain two rockers for some amount of years…but that doesn't seem to be the case anymore. They're quite the pair of dynamic and immensely talented musicians who can captivate an audience with ease, and on top of that, their on-stage interaction shows nothing but good spirits, all smiles, and just plain fun. There's no question that fans are thrilled to know that Phil Lewis and Tracii Guns are indeed back together again. L.A. Guns is a group in tip-top shape and it will be great to see what else the future holds. With so many tour dates on the horizon, it's looking like this band "can't stand still" til they've "seen the world" – and the world is just as happy to see them.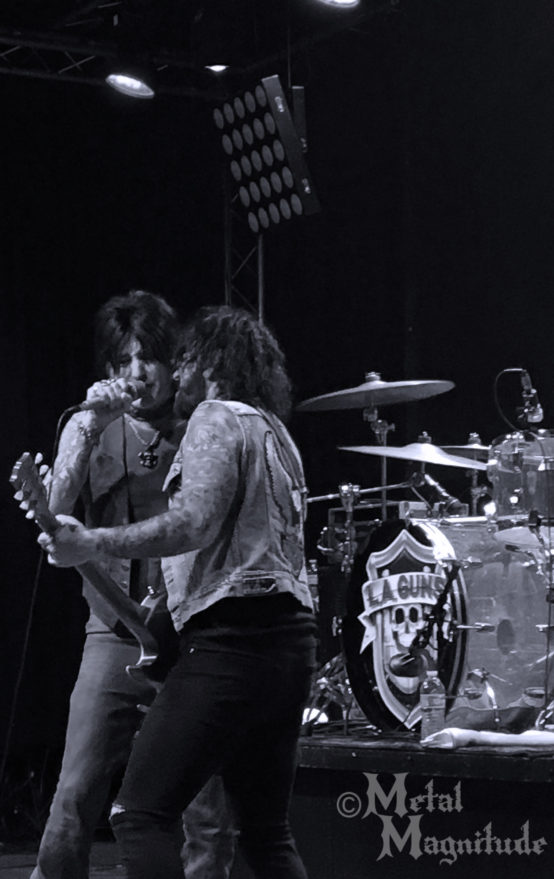 [All concert photos ©Metal Magnitude 2017. Please do not copy or use without permission.]
For more on L.A. Guns, the place to visit is the recently created Facebook page for the current lineup, which you can find right here: