All That Remains to Unleash some "Madness" In The US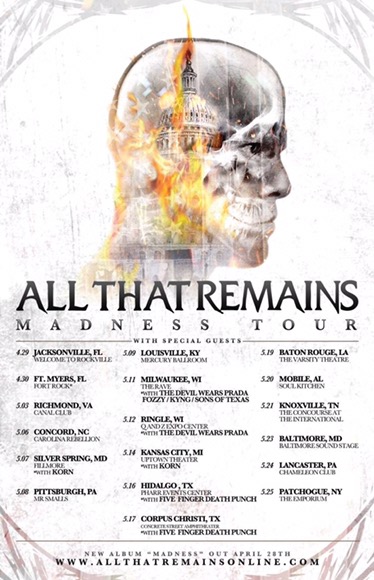 March Madness may be all around us, but the real madness comes about in April for All That Remains. April 28th marks the release date of their eighth studio album, "Madness", and a US tour in support of it has just been announced, including some special guests.
Korn, Five Finger Death Punch, The Devil Wears Prada, Fozzy, Kyng, and Sons of Texas will all be joining All That Remains on select dates throughout their tour. They'll start things out with a festival date in Florida on April 29th and close it off with a trip to Long Island on May 25th.
All the tour dates are listed in the official poster above, and further info and tickets can be found at the band's official Website.
Two official audios have been revealed so far to give a sneak peek of the record. One showcases the heavier side of the Metalcore band, the single "Safe House", while the other has more of a hard rock vibe, the title track's lyric video "Madness". Both can be heard below.